Are you looking to transfer your united airlines transfer ticket to another person? According to united airlines policy, you cannot transfer your ticket to another person, may it be a friend or even a family member. United Airlines has maintained this policy due to several security reasons.
Although the airline has a 24-hour cancellation policy, it is easier for you to cancel and rebook a ticket.
Follow the blog to understand how you can benefit from the 24-hour cancelation policy and rebook your ticket in another person's name.
What are United Transferable & non-transferable tickets to another person?
Before getting any further, let's understand what transferable and non-transferable tickets are.
A transferable ticket is simply a ticket that allows you to transfer your ticket to another passenger. This means this ticket will allow another passenger to travel on your ticket. Although these tickets are much costlier even if provided by some airlines. Therefore they recommend that you cancel and rebook in the name of another person, which makes it an easy and cost-saving process.
On the other hand, a non-transferable ticket is the usual ticket united airlines provide these cannot transfer at any cost you will have to cancel and book another. The fact is that most airlines don't provide transferable tickets.
Reasons why united does not allow to Transfer tickets
There are majorly 3 reasons that stop united airlines from allowing passengers to transfer their tickets to someone else.
Security Reasons
According to United Airlines, authorizing this transfer ticket might pose a severe security risk to them. The explanation is that before giving out the tickets, they verify each person's identification. However, it will be exceedingly challenging to identify the transferred person if the transfer is approved.
They do not, however, know to whom the ticket is being transferred. Thus, they will not also be in possession of the prior owner's information. As a result of the difficult circumstances they find themselves in, United Airlines does not accept transferrable tickets.
To Avoid Speculation
If united airlines allow the transfer, people will book tickets much in advance at a lower cost and then sell them at a very higher price at the time of need. By Creating demand in the market, they will be able to sell the tickets at higher costs easily.
Which will create a whole market which will put united airlines into trouble.
To protect its revenue
Allowing the transfer of tickets increases rumors about United airlines. Therefore they never started this service. Although that's not the whole picture, people will start speculating, as mentioned above. Buy tickets at a lower price and sell when the prices rise, which will lower the revenue of united airlines, obviously!!
This is another reason why the airlines don't allow to transfer of tickets.
Alternatives to transfer airline tickets to another person
So naturally, the next question is, what else can be done right?
Here we have got you a simple hack so that you can save up on your money and even get the tickets to change.
United Airlines 24 hour flexible cancelation policy
By now, we have understood that you cannot transfer your ticket to anyone, but with united airlines, you can easily cancel the ticket within 24 hours of booking. The best part is no extra charges, no cancellation fees will be deducted the whole amount will be refunded back to the source.
Do you want read more
>> United Airlines Cancellations Updated Policies >>
Some important guidelines for 24-hour cancelation policy
Tickets that you buy from e certificated are not eligible for this policy.
If the tickets are purchased with a combination of money and mile, they are also not eligible for the policy.
The policy is applicable only if the tickets are bought from the official site of united airlines, customer support, and airport ticket counters.
Rebooking policy
The confusion between transfer ticket and name change
Is this common for people to mistake name change and ticket transfer these are two very different things?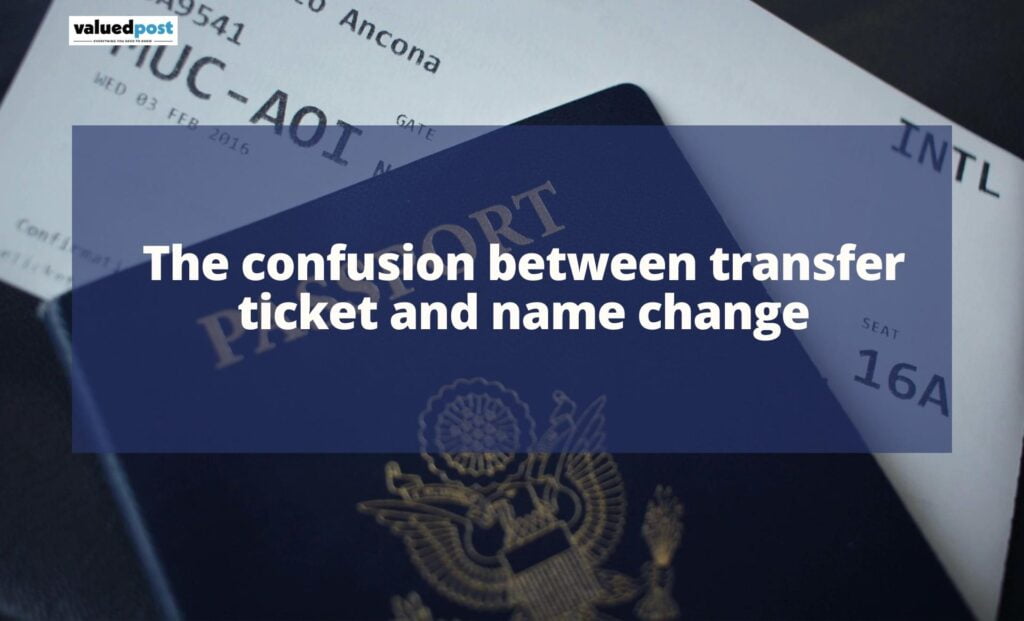 By now, we have understood what transfers are but let's understand what the name is and what the policies are in brief.
Terms and conditions for changing the name
When we say name change, that just means that each and every detail on the tickets remains the same, just the name would change. That can be due to spelling mistakes, changes in marital status, or maybe any other reason.
Make sure you have the tickets available for the name change
In the case of codeshare agreement flight, the name can only be changed on the united segment route
The ticket inventory should start from 016 for a name change.
No changes can be made to the flight date, seat, or any other things other than the name.
No major corrections like DOB or gender are valid on flight tickets as this comes under transferable tickets.
The name change is only available up to 2 hours before the departure of the flight. After that, no changes.
Questions people ask about transferring an airline ticket to another person's United Airlines
How do I change my passenger on united airlines?
All you have to do to change the number of passengers flying with United is update your reservation. You may retrieve your reservation by heading to United Airlines' Manage Booking option. Once your reservation has been located, select Update or Modify and then change the number of passengers as necessary.You cannot transfer your United ticket to another individual, either, as it is against the law.
Can I change my ticket name to someone else, keeping other details the same?
The answer is no, you can only change the name if there is a spelling error or some other minor errors you cannot change the name to someone else even if you're keeping all the details the same because the documents provided by you are yours and not the other person's. 
Can I cancel my United flight and rebook for cheaper?
Passengers may cancel and rebook their flight when the cost decreases. Customers must pay the cancellation costs if they decide to cancel after the risk-free period has passed. Travelers will receive an e-credit equal to the fare difference. They can utilize the credits for upcoming reservations within a year of the date of issuance.
>> Click below & explore more