Brian Rader is the son of Dennis Rader and Paula Dietz. Her mother, Paula Dietz, is an American. She was formerly a bookkeeper. Paula was born in Park City, Kansas, on May 5, 1948. She was born into a religious family. She got married to Dennis Rader in 1971.
Dennis Rader is the father of Brian Rader and was born on March 9, 1945, in Pittsburg, Kansas. After 34 years of his marriage with Paula Dietz, they divorced in 2005.
Brain Rader is 48 years old and was born in Kansas on November 30, 1973.
Dennis Lynn Rader aka BTK: Father of Brian Rader
The American serial killer BTK, Dennis Lynn Rader, also known as Dennis Rader, is the father of Brian Rader. His moniker was "BTK," short for "Bind, Torture, Kill." Rader killed ten people in the metropolitan Wichita, Kansas, between 1974 and 1991.
Since BTK had stopped communicating by 1979, police believed he was dead or in prison. But in 2004, Dennis revealed information about his eighth murder victim from 1986 in a letter to the media. He divulged personal information about himself, such as the fact that his grandpa had served in World War II and he lived close to train tracks.
Apprehension of Dennis Rader, aka BTK
Dennis Rader, 59, was stopped by police on February 25, 2005, as he was making his way home from work for lunch. Dennis Rader confesses to the FBI using the alias "BTK," an acronym for "bind, torture, kill," to terrorize and murder Wichita, Kansas, citizens for 17 years. The kind, grandmotherly Marine Hedge who lived across the street from them was one of his ten total victims, whom he nicknamed "projects." Rader would later describe in court how he broke into Hedge's house and choked her. He then used a polaroid camera to capture her body in bondage.
The FBI found duct tape, ropes, cable, pantyhose, and underwear in his backyard shed. Additionally, they discovered a hidden area in the corridor of their house where he kept sketches and newspaper articles regarding BTK.
Conviction of Dennis Rader
Rader was accused of 10 first-degree murders two weeks later. FBI was able to get DNA samples from Rawson that matched semen found on or close to several murder victims, including Nancy Fox, 25, who was murdered in December 1977.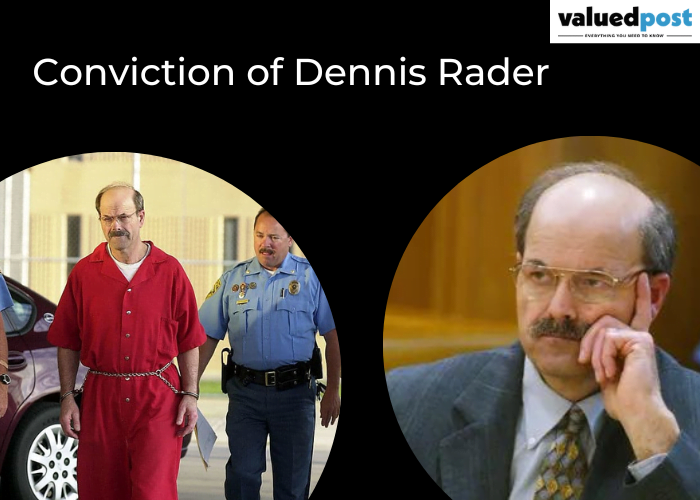 Rader was given a prison term of at least 175 years without the possibility of parole. Kansas did not have a death penalty at the time of sentencing. Thus the sentence was the maximum that could be given. Rader will spend the rest of his life behind bars for his horrific acts.
Where is Dennis Rader now?
Dennis Rader is now 76 years old. He is serving his sentences at El Dorado Correctional Facility in Prospect Township, in Butler County, Kansas, for his serious crime.
What did BTK do to the Otera family?
On January 15, 1974, Dennis Rader made his first killing. Otera family was his first victim. After cutting a phone line, he breaks into Joseph and Julie Otero's home in East Wichita. It was Rader's first leap into notoriety. Besides killing the two parents by strangling them, Rader also murders two of their minor children, leaving three older siblings to find the corpses after returning from school later that day.
Did BTK's wife know about him?
The psychological shock Dennis Rader's wife went through was undoubtedly indescribable. In 1970, she fell in love with a retired US Air Force officer, and a few months later, they were married. As they settled into their Park City, Kansas, house, Dietz took care of their two kids, and Rader went to work as an electrician.
Dietz was unaware that when concealing himself with a mask and breaking into houses at night to murder innocent people using his knowledge of electrical. Even though her spouse left a trail of hints, Dietz didn't figure out who Rader was until after he was apprehended.
Profession of Brian Rader
At the time of apprehension of his father, Brain Rader was an Eagle Scout. Brian was working at a subbase in Connecticut when his father was taken into custody in 2005. He worked on Navy submarines from 2004 to 2009. Since 2016 he has been in association with a college.
Kerri Rawson: Sister of Brian Rader
Kerri Rawson is the daughter of Dennis Rader and Paula Dietz. She is the only sibling of Brian Rader. She was born in 1978 in Kansas. Kerri was 26 years old when her father was apprehended by the FBI. He accepted the charges of murdering ten people, including two children. Kerri has fought for abuse, crime, and trauma victims ever after her father was arrested. She shares her journey of hope. Kerri is a writer and NYT bestseller. She wrote a book, A Serial Killer's Daughter: My Story of Faith, Love, and Overcoming, in which she discusses her father and the past ten years in trying to forgive him.
Kerri Rawson got married to her childhood friend Darian Rawson in 2003.
Even with all his achievements, Rawson voiced concern for her brother. She stated in an interview, "Brian Rader doesn't have the kids and the family that I have." Brian Rader stays away from the spotlight and the media.
FAQ
When did Dennis Rader get sentenced?
In February 2005, Dennis Rader was sentenced by the police. Soon he confessed all his crimesHe was arrested in February 2005, and he soon confessed to the crimes—and expressed shock that the police had lied to him. In June Rader pled guilty, and two months later he was sentenced to 10 consecutive life terms
What does BTK mean in texting?
BTK is a simple chat acronym that means "back to keyboard." You're most likely to receive this acronym from someone who was recently AFK. BTK is one of many acronyms online chat users might use to signal they've returned to their keyboard.
What happened to Brian Rader?
Rader would reveal how he broke into Hedge's home and strangled her. Then he took polaroid photographs of her body dressed in bondage. For his heinous crimes, Rader will remain in prison for life.
Is Dennis Rader still alive?
After a decade-long hiatus, Rader resumed sending letters in 2004, leading to his 2005 arrest and subsequent guilty plea. He is currently serving 10 consecutive life sentences at the El Dorado Correctional Facility.
When was Kerri Rawson born?
Kerri Rawson was born in 1978 in Wichita, Kansas, USA.
Why did BTK take so long to get caught?
Multiple reasons, including: Dennis Rader had no criminal record of note – Beyond traffic citations and a restraining order for stalking allegations, Rader had no arrests on his record, nor did he have any major court interactions.