Around 1905, Rhyolite was a thriving town with thousands of gold-seekers. They had houses, a tavern, a jail, and plenty of other things going on. However, by 1920, no one was present for various reasons. It is now a deserted ghost town with just ruins remaining.
A group of Belgian artists added several statues and artworks to the Goldwell Open Air Museum, which is located immediately south of Rhyolite. These statues appear to be intimidating in the void.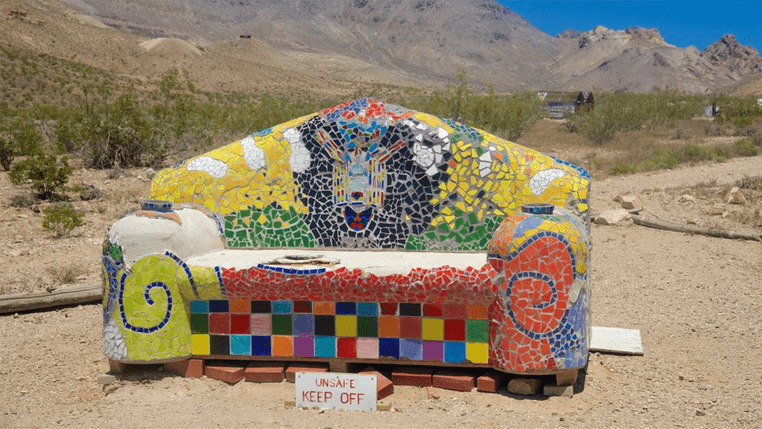 The sculpture park, which was founded in 1984 by Belgian artist Albert Szukalski, has become a home for a diverse range of artistic perspectives. Szukalski's The Last Supper, a sculptural rendition of the iconic religious spectacle situated in the broad scenery of the empty Ambergosa Valley, was the park's debut component. Szukalski replicated the classic picture by draping plaster-soaked burlap over live models until the plaster set, creating white ghoul-like statues. Szukalski went on to construct several other works using various techniques, paving the way for many other artists, including Belgians, to come and exhibit their work.
In the early 1990s, Charles Morgan and Suzanne Hackett-Morgan collaborated with Szukalski to establish the Goldwell Open Air Museum to help preserve the site. After Albert Szukalski's death in 2000, it became an established nonprofit organisation.
Since then, the museum has added conservation projects as well as artist residence programmes to help preserve and exploit the desert's distinctive nature. At this moment, there are nine known permanent sculptures in the desert valley, including Dr Hugo Heyrman's Lady Desert: The Venus of Nevada. This contemporary cinder block sculpture closely resembles the image of computer pixels.
The museum and Rhyolite are both fascinating. Many people came here with high aspirations, lived here, and died here as well. It has an emotional impact.