Kelleys Island, the largest of Ohio's the Lake Erie Islands, is occupied by natural areas. It appeals to those who enjoy nature and birds and seek a relaxing and peaceful escape. It has rocky shorelines, sandy state park beaches, lush forests, a famous winery and brewery, historic homes, and friendly hospitality. Visitors are welcome to join the islanders in their relaxed way of life.
Explore the world's largest and most phenomenal glacial scoring by golf cart or bicycle. Discover Native American rock art carved into a limestone boulder.
Hike miles of trails at the state park or charter a fishing boat to catch perch or walleye. Downtown is the island's beating heart. Clothing and gift shops, miniature golf, karaoke, restaurants, and live entertainment keep the island vibrant.
Unique things to do when at Kelleys Island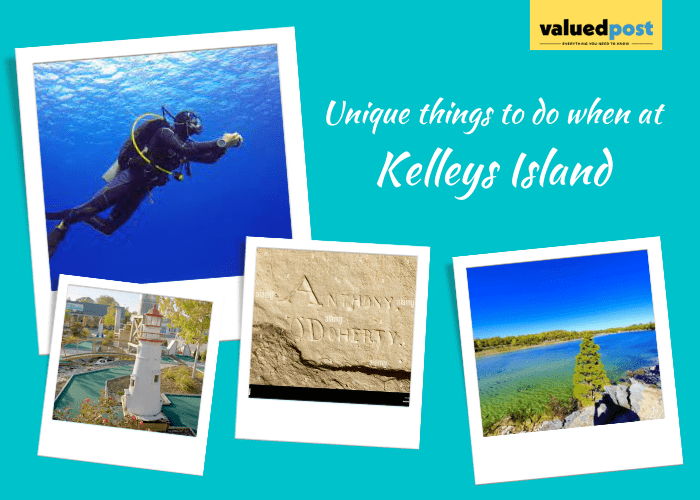 Fishing Charter-Fishing opportunities are available on Lake Erie. Whether you're fishing from your own boat or joining a charter trip.
Beer Tasting –Enjoy a few beers at Kelleys Island Brewery while admiring the view and lake breezes!
Rent a Golf Cart- Rent a Golf Cart and explore the island at your leisure!
North Pond- The North Pond Boardwalk is a one-mile hiking trail. It winds through the North Pond State Nature Preserve. It is home to one of the Lake Erie Islands' last remaining lake embayment ponds.
North Shore Alvar- The North Shore Loop Trail is a one-mile easy hike and bike trail that leads to one of Kelleys Island's most unique treasures: the rare Alvar habitat along the island's northern shore.
Parades – Kelleys Island hosts two parades annually: The Islandfest parade in July and the homecoming parade in August.
Glacial Grooves- The Glacial Grooves are Kelleys Island's most popular natural destination. Our grooves are the world's largest and most accessible examples of this geological phenomenon!
Arcade- In a small building, the Vin Bit Arcade is behind the horseshoe pits at Kelleys Island Wine Co in a small building.
Scuba Diving – One of the most enjoyable aspects of diving and snorkeling is seeing something new on each trip. Of course, diving on shipwrecks is becoming increasingly popular among Lake Erie scuba divers.
The cool fresh lake water has preserved shipwrecks that would have vanished in a saltwater environment.
Kelleys Mansion- Kelleys Mansion, located at 211 East Lakeshore Drive, is being privately restored. It is not accessible to the general public, but it is evident from the sidewalk.
Also, when at Kelleys Islands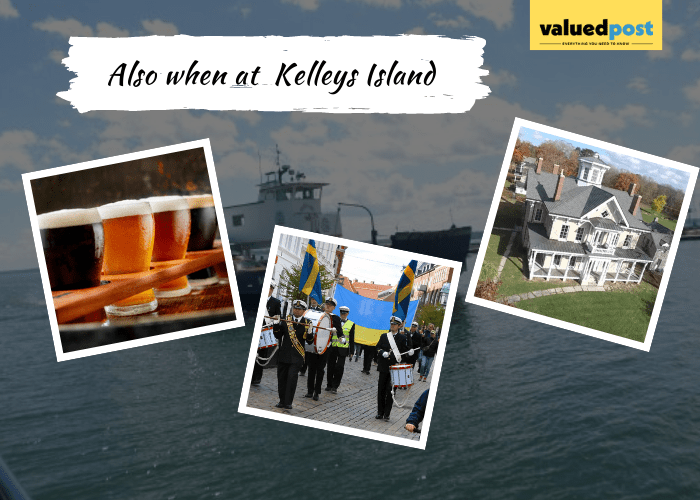 Wine Tasting – Kelleys Island Wine Co. and the new Crooked Tree Vineyard. Two different places to enjoy a great glass of wine!
Bird Watching – Kelleys Island is a habitat for a large number of the state's priority conservation species. Including waterfowl like Buffleheads and land birds like Hermit Thrushes.
Rent a Bicycle –Several businesses downtown and rent bicycles at the northern end of Division Street, near the State Park.
Kelleys Island History Museum- The museum is on Division Street, just north of Chappel Street. Next to the 1866 "Old Stone Church." Aside from the museum, there is also a fantastic gift shop! The Assoc. opened a Resale Shop in the neighboring Parsonage.
Take a Kayak Tour- Explore Kelleys Island's most pristine areas on foot, bike, or kayak.
Scheele Preserve- The preserve is only a half-mile from the East Quarry Trails' main entrance. Before arriving at a quiet stretch of shell beach. The trail winds across an open meadow, groves of low-growing trees, and bushes of tall grass.
Inscription Rock- On Kelleys Island's south shore, look for American Indian symbols carved in the rock. The rock was discovered partly buried in the shoreline in 1833. It is now completely exposed and covered by a roof and viewing platform.
Lilac Walk – Stroll the beautiful self-guided Lilac Trail and enjoy the beautiful colors and fragrant flowers. This walk begins on Ward Road's south side, east of Division Street.
Watch the Sunset- Of course, wherever on the West end of the island (facing Put-in-Bay) is a great venue. Mesmerize the sunset, and the West Bay Inn patio allows you to take a beverage along at the same time.
Kelleys Island Ferry
Kelleys Island Ferry provides the only daily auto/passenger ferry service to Kelleys Island. It is a short 20-minute boat ride from Marblehead, Ohio. Along the way, there are spectacular views of the Marblehead Lighthouse, Put-in-Bay, Cedar Point, and the Lake Erie Islands. Boats arrive at least every hour, with additional service available during peak periods and on holiday weekends.
Best Time To Visit Kelleys Island
Meanwhile, the best time to visit Kelleys Island is when you can fully engage yourself. In the experience without worrying about such interruptions.
Kelleys Island's weather is pleasant; also, the best activities are available during any time of year.
Come visit at its best time when you can have a pleasant experience without worrying about smaller things.