Explorers and tourists who like peaceful, sandy beaches and rugged shorelines with underwater caves sculpted by wind and water will fall in love with the Apostle Islands in Wisconsin. Lighthouses, historically narrative sites, nature reserves, and wilderness camping preserve the Apostle Island's essence.
But, before we get into the magnificent and exciting Apostle Islands experiences, there are a few things you should know about this stunning region.
A Little History of the Apostle Islands
Apostle Islands are named after the 12 apostles as the region has 12 large islands. They constitute a huge archipelago with stunning views, well-known red sandstone sea caves, and rich history. In mid 20th century, the Apostle was used for shipping, stone quarrying, and fishing. But in 1970, the authority changed it to Apostle Islands National Lakeshore. Consequently, converting most areas of the Apostle Islands into a nature reserve.  
All 22 Islands that Makeup the Apostles
The Apostle Island is a picturesque archipelago of 22 islands surrounding the northernmost point of Wisconsin's Bayfield Peninsula. Madeline Island is the largest Apostle Island and the only one not included in the Apostle Islands National Lakeshore.
Here is a list of the 22 Apostle islands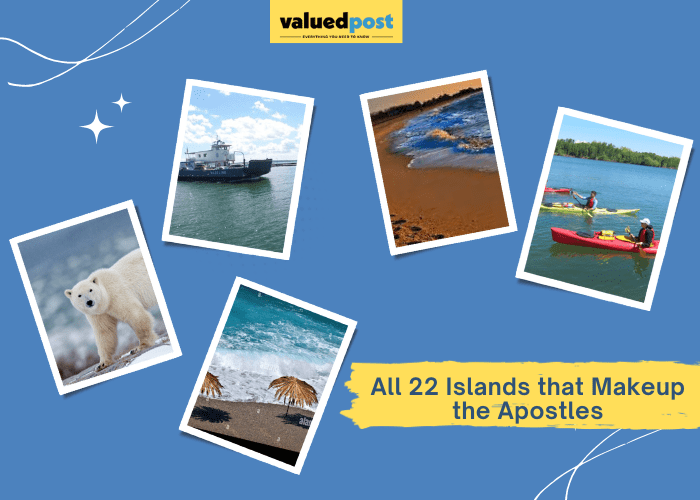 Madeline Island
Bear Island
Gull Island 
South Twin Island
Outer Island
Eagle Island
Long Island 
Sand Island 
Basswood Island 
Oak Island 
Michigan Island 
Hermit Island 
York Island 
Otter Island 
Manitou Island
Rocky Island   
Devils Island
Cat Island
Ironwood Island 
North Twin Island
Raspberry Island
Stockton Island
Bayfield County in Wisconsin is home to the Apostle Islands National Lakeshore Headquarters.
Dig Out Each Island
Despite their near proximity, each island has a strong identity. Some are completely natural, while others, like lighthouses and quarries, bear undeniable signs of human history. Even if you simply stay for a few minutes on each island, you'll gain a sense of its landscape and heritage.
There are many ways to reach different islands in the Apostle Islands in Wisconsin. Water taxis ferries people to the coast of Madeline Island. Private boats and cruises are also an option. The city of Bayfield, built on the banks of Lake Superior along Wisconsin Highway 13, is the primary starting point for experiencing the Lakeshore.
Explore the Historical South Shore
There are basically three top communities: Cornucopia, Herbster, and Port Wing on the south shore, which you must visit if you are at the Apostle Islands.
Herbster is the most attractive of the three, and the Herbster Campsite is one of the greatest Apostle Islands camping alternatives. It's also worth visiting the Bark Bay Slough State Natural Area.
Port Wing is the most remote of the Apostle Islands, yet it is still a must-see for history enthusiasts. Port Wing is home to two historic churches.
Cornucopia is famous for being Wisconsin's northernmost town. The place is a gateway to Apostle Island. It has a historic harbor, and Cornucopia Beach is also worth seeing.
Adventurous Kayaking : Paddle, Spin, and Surf
Kayaking is one of the best activities on the Apostle Islands, regardless of your skill level. It enables you to discover inaccessible spots and enjoy flora and fauna. Meyers Beach is a great site to start your kayaking adventure because it is close to the spectacular sea caves of the Apostle. Kayaking on Lake Superior allows you to explore caverns and discover the wreckage.
Guided Apostle Island tours for kayaking are available for service.
Perfect Dishes for a Connoisseur
Friday night fish fry is the most loved cuisine at Apostles Island, Wisconsin. This traditional dish cherishes the taste of beer-battered fish with chips, coleslaw, rye bread, an onion slice, and tartar sauce.
Grilled Bratwurst, a dish soaked in beer and onions, is another dish found at each corner of the island. The beer-and-onion mixture can include other ingredients, such as spices, herbs, sauce, and garlic. Another delicacy to taste out is beer brats with a side of breaded cheese curds.
Grab the awesomely titled Chicken Booyah, a broth-based soup with veggies and shredded chicken that is extremely popular on the Apostle island.
If you are an ice cream lover, you must enjoy the Blue Moon ice cream here. Its distinctive flavor has been described as everything from marshmallow to pistachio to Froot Loops.
Swing by Devil's Island
One of Wisconsin's 22 Apostle Islands. The huge sea caverns surround the beach on the island. The exciting thing here is the sound of waves crashing on the coast and caves. An echo of impact ripples through the caves, which can be heard far during a thunderstorm. Exploring the caverns during the winter is also one of the best Apostle Islands winter activities, as they freeze over and convert into ice caves.
Camping on the Apostle Island
Camping on the Apostle Islands is an unforgettable outdoor adventure. There are numerous campgrounds near the Apostle Islands. Many of the islands have campgrounds accessible via kayak, private water taxi, or ferry service. From the forested calm typical of Wisconsin state parks to pools and activities at private campers, you can enjoy your holiday to the fullest.
The beautiful weather in the state parks is stunning, making it one of the most incredible fall activities on Apostle Island, Wisconsin. Some ground rules exist, including limiting groups to five people and staying away from streams, structures, and other campsites.
Enjoy the cruise service
Hop on to the Apostle Islands Cruise Service. Most of the cruises leave from Bayfield. It provides yet another option to discover and appreciate the islands and their surrounding area. These rides offer a range of thematic routes. You will experience natural splendor in addition to some historical lighthouses of Wisconsin.
You can also enjoy overnight camping shuttles to Stockton and Oak Islands, allowing tourists to combine a cruise with camping.
The Apostle Islands are one of northern Wisconsin's must-see attractions. It will captivate those who enjoy calm, sandy beaches and coasts with underwater caves carved by wind and waves.