Time to know what is CLB?The CLB testing resembles the progression of basic, intermediate, and advanced knowledge. Skills among adult ESL learners through the process of the Canadian language test.
Wondering what is CLB? The Canadian Language Benchmarks standard is an explanatory scale of English benchmark. Second Language (ESL) language ability written as 12 benchmarks or citation points along a continuum from basic to advanced.
The CLB testing resembles the progression of basic, intermediate, and advanced knowledge. Skills among adult ESL learners through the process of the Canadian language test.
The Distinctions Between Clb And Cefr
The CEFR is an abbreviation for the Common European Framework of Reference for Languages. It is also a global framework for describing a person's English language ability.
The CEFR level is a six-point scale. Describes C2 proficiency as the highest level of English language mastery and A2 as the beginner level. The CLB level, on the other hand, employs a scale of 0 to 12.
What Are CLB Levels?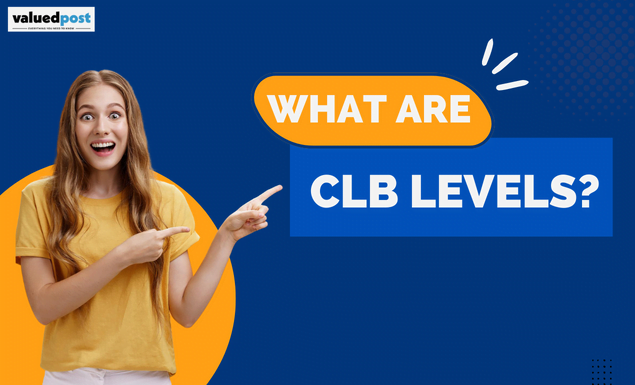 The Canadian Language Benchmarks have 12 levels of ability (CLB). In Canada, it is also primarily in utilization to assess an individual. Knowledge of the four English skills: writing, reading, speaking, and listening.
When grading, each English skill will be assigned a different CLB ranking. A score gives you a clear understanding of your ability in that specific English skill.
The Distinctions Between CLB, CELPIP, and IELTS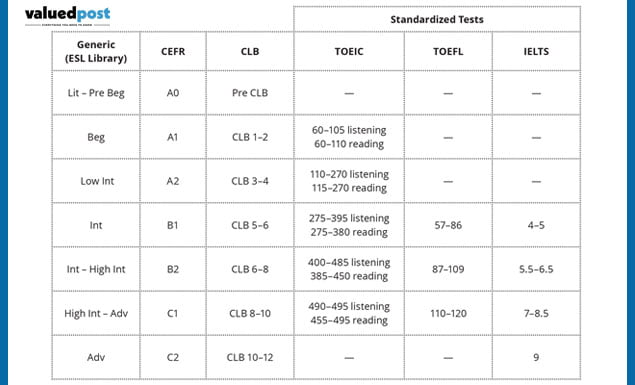 The CLB distinguishes itself from CLB IELTS and CELPIP in that it provides a descriptive language benchmark for English language proficiency.
CELPIP and CLB are both tools that are officially applicable in Canada. However, keep in mind that CELPIP is an English language proficiency test, whereas CLB ratings are a standard for test scores that provides a comprehensive description of an individual's English ability.
It is solely based on an individual's English proficiency and performance on actual tasks and daily activities in various settings such as the community, the workplace, and an educational setting.
The Canadian Language Benchmarks are as follows:
a set of specific attributes about different levels of language ability,
a characterization of communicative skills and perform tasks that learners must complete
language knowledge and skill application (i.e., ability),
a national standard for developing language instruction curricula in a variety of contexts,
a reference framework for adult ESL learning, teaching, programming, and assessment in Canada
The Canadian Language Benchmarks DO NOT INCLUDE:
a description of the discrete knowledge and also skill elements that underpin communicative ability. Specific grammatical structures, vocabulary items, elements of pronunciation, micro-functions, and cultural conventions.
a syllabus
linked to any particular instructional method,
an evaluation
The Intended Audience and the Purpose
Adult ESL instructors, assessors, test designers, curriculum and resource developers, and academics are the CLB's intended audience.
The CLB standard can also be used to inform program funders. Labor market associations, licensing bodies, and employers about English language training programs.
The CLB serves several important functions for learners, educators, and assessors.
The CLB serve as a foundation for learners to plan their learning languages, set and adjust goals, and track progress.
The CLB, as the national standard for defining communicative language ability. Helps to foster a common understanding of learner credentials. Allowing for a smooth transition between classes, programs, and institutions. In addition to recognition by professional organizations and licensing bodies across Canada.
Working with Adult ESL Learners Educators, Assessors, and Test Developers
The Canadian Language Benchmarks standard establishes a professional foundation of sharable philosophical and theoretical perspectives. Mainly on language ability, which guides language assessment and instruction.
It establishes a common national framework. Assessing and also measuring ESL learners' communicative ability for instructional and other purposes. Ensuring a common foundation for the development of programs, curricula, resources, and also assessment tools that can be shared across Canada.
The CLB assists the professional field in communicating ESL needs, best practices, and accomplishments.
For a Larger Community
The Canadian Language Benchmarks helps to ensure clear and informed communication between the ESL community and other stakeholders and organizations such as related field instructors, applied for college programs, TESL and other educational programs, counselors, and language education sponsoring bodies. The CLB also provides information for labor market affiliations, sector councils, licensing bodies, and employers who want to know how to reference language requirements for occupations and trades to the standard.
Canadian Language Benchmarks is also frequently confused with an English language test or exams like IELTS or CELPIP. Moreover, we hope that this article has helped you understand what CLB is and how it differs from other tests.
Also, you will come across CLB if you are preparing for Canadian immigration or looking for higher education in Canada.
You should be able to continue as long as you write well and score well in CELPIP or IELTS. CLB is nothing more than a standard against which your test results can be compared.
Do You Want Explore More