How much do Amazon drivers make? According to the data, most of the drivers hourly earn $18 to $25 in the United States because it is the home country of Amazon. A wide range of factors determines the gross revenue of Amazon drivers. Learn how to apply for delivery jobs and how much Amazon drivers are paid in different countries.
Additionally, through this blog, you will get information about the starting salaries and the pay for Amazon drivers.
What is the Amazon Drivers Salary?
How much do Amazon Drivers make? Driver working in the Amazon ecosystem earns around $18 to $25. Amazon drivers' salary is approximately $34,000 to $50,000 yearly in the United States. The highest earner makes up to $50,000 within a year.
The drivers can drive for some delivery blocks to complete the initial orders to qualify for commission and payout.
You need to know more before initiating as an independent contractor or Amazon driver.
Also, Amazon drivers salary couldn't have a basic answer because of many aspects that differ from the wages of delivery drivers.
Amazon wages differ from region to region and also country to country. For example, drivers who work in urban areas will earn more because of the demand in comparison to rural regions.
But Amazon provides consistent work and a steady paycheck to its drivers and ensures regular earnings to help them to accomplish their needs and cover their expenses.
However, Amazon offers peerless job security because of its vast network of more than 200 million Prime members. Also, it dispatches 1.6 million packages every day.
According to Distinct Cities, How Much do Amazon Drivers Pay?
Here is the primary hourly amazon drivers pay in different countries.
United States
How much do Amazon drivers pay in the United States? The home country of Amazon is the United States. This is the main reason that Amazon delivery jobs pay the highest wages per hour. Amazon driver's wage information from Indeed indicates their salary is $17.60 per hour.
This range applies to those who buy vehicles by using the app of Amazon Flex, third-party groups who sign up for collaboration delivery, and exclusive employees of Amazon.
Typically, a driver who works in metropolitans like Big Apple and California earns higher, being for New York, it is $18.50 to $22.50, and for San Francisco, it is $21.50 to $25.
Australia
According to the data, Australian Amazon driver earns more than the U.K. and U.S. The standard earnings of an Amazon driver are $28.75 every hour in Aussie, which is equally around $20 in the United States.
However, Amazon drivers earn distinctly like any other country. For example, an Amazon driver makes a minimum wage of around $27.83 in New South Wales.
United Kingdom,
Unfortunately, the delivery members of U.K. Amazon earn less than U.S.workers. The regular salary per hour for delivery guys of U.K. Amazon is approximately £13.50, which is equivalent to $16.25.
Therefore, as same as with the United States, the wage depends on your focus on the delivery block. For instance, salary in Scotland starts from £15 to £17 every hour, while in Wales, drivers get between £13 and £15.
What are the Benefits of Amazon Drivers?
The firm provides different benefits to Amazon drivers, which resolve most work-life and personal issues.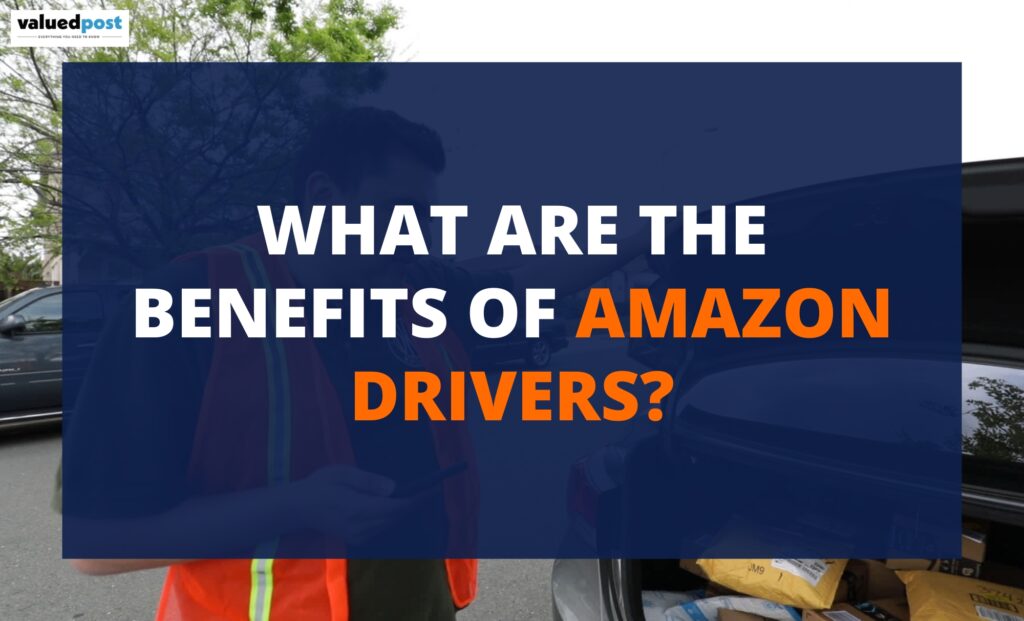 1. Health Coverage
Amazon provides health insurance to the workers of their firm, which covers vision, prescription drugs, and dental health spending amounts. Also, drivers can access the 24/7 service by Amazon Care for discounted doctor consultations or nurse consultations for free.
2. Paid Time off
To ensure flawless operations for package delivery, Amazon provides its staff with paid time off once a year.
Drivers will also receive paid time off for sick days and other reasons, which will help them to perform well on the job site.
These benefits will help the drivers to enjoy their work experience with Amazon and provide quality output in the industry. But the operations will become overwhelming by using the Amazon delivery app.
Moreover, you can also use a professional route schedule to improve your delivery operations in comparison to others, boost your payout and tip and power your position in the firm.
3. Flexible work schedule
The Amazon driver can select their work hours and deliver the necessary deliveries. Also, they can use the application of Amazon to explore information in detail about pick-up and drop-off. Moreover, the drivers can also select additional working hours in order to earn more commissions.
4. Competitive earnings
Amazon provides an excellent opportunity for drivers to boost their income and build a gracious career in delivery operations. The commission rate will help Amazon stand out from other job providers.
Amazon offers excellent security and many other opportunities for drivers to earn more and live gracious lives.
Benefits of Amazon truck driving jobs
Individuals who work as owner-operators can make more monthly but don't get the benefits of employees while working with Amazon. However, for Amazon truck driving jobs as Delivery Service Partners, you will only get the benefits of being an employee.
Here are the benefits below that you can expect from Service Partners of Amazon Driver:
Insurance for Disability
Vision, health, and medical Insurance
Parental Leave
Paid Sick Leave
Increment in Salary for Long-Time Drivers
Paid Time Off
Retirement Plans
Working During the Weekend will double the wage
Chance to get Higher Positions
skills development
Frequently Asked Questions
What are the benefits of Amazone drivers?
The firm provides health benefits like coverage, competitive earnings, flexible work schedule, and paid time off to Amazon drivers, which resolve most work-life and personal issues.
What is the salary of an Amazon Driver?
A driver working in the Amazon ecosystem earns around $18 to $25. Amazon drivers' salary is approximately $34,000 to $50,000 yearly in the United States. The highest earner makes up to $50,000 within a year.
What is the amazon box truck owner operators salary?
The weekly salary for an Amazon box truck owner operator salary is $3,990, and the monthly payment is $207,500 for the top earner.
Do You Want Explore More Click Below