Everyone loves to fly, right? Everyone loves to save money, too, right? What if southwest points to dollars conversion can make you fly along with saving money? Yes, Southwest provides amazing policy for converting reward points into money that helps you to make your flights affordable. Southwest Flights gives their customers reward points for flying. These points can be redeemed on the next journey as a discount on flight tickets.
Credit Cards offered by transfer partners also help in earning a point.
Let's discuss everything about the Southwest Credit points and can avail of all the benefits.
Southwest Points to Dollars: What is the Worth?
The most interesting thing is you can easily earn reward points with Southwest Credit Cards, like Rapid Rewards and priority credit cards. Southwest points are easier than most airlines because the cash price of the ticket is directly related to the price of an award flight. You must be thinking of the value of Southwest Reward Points.
The reward points vary slightly depending on the route and time period of the year. In general, the calculated average is 1.5 cents per point.
Here are some estimated average calculated values for Southwest Points. With the help of this table, you can calculate southwest points to dollars accordingly.
| | |
| --- | --- |
| Average Value | Southwest Points |
| $1,560 | 120,000 |
| $1,300 | 100,000 |
| $1,040 | 80,000 |
| $650 | 50,000 |
| $520 | 40,000 |
| $390 | 30,000 |
| $130 | 10,000 |
| $65 | 5,000 |
| $13 | 1,000 |
Comparing Southwest Points to Dollars with Other Airline Miles
According to an analysis, Southwest reward points are the most valuable airline rewards available.
Let's have a look at the comparison of mile values and program.
| | |
| --- | --- |
| Mile Value | Program |
| 1.2 cents | United |
| 1.5 cents | South West |
| 1.5 cents | JetBlue |
| 1 cent | Hawaiian |
| 0.9 cents | Frontier |
| 1.5 cents | Delta |
| 1.5 cents | American |
| 1.2 cents | Alaska |
8 Ways of Converting Southwest Points to Dollars
Southwest is one of the favorite and preferred airlines among passengers because of its acceptable policies like free checked baggage, companion pass, and rapid reward points. The Southwest reward points are easy to use and can be used in different ways too.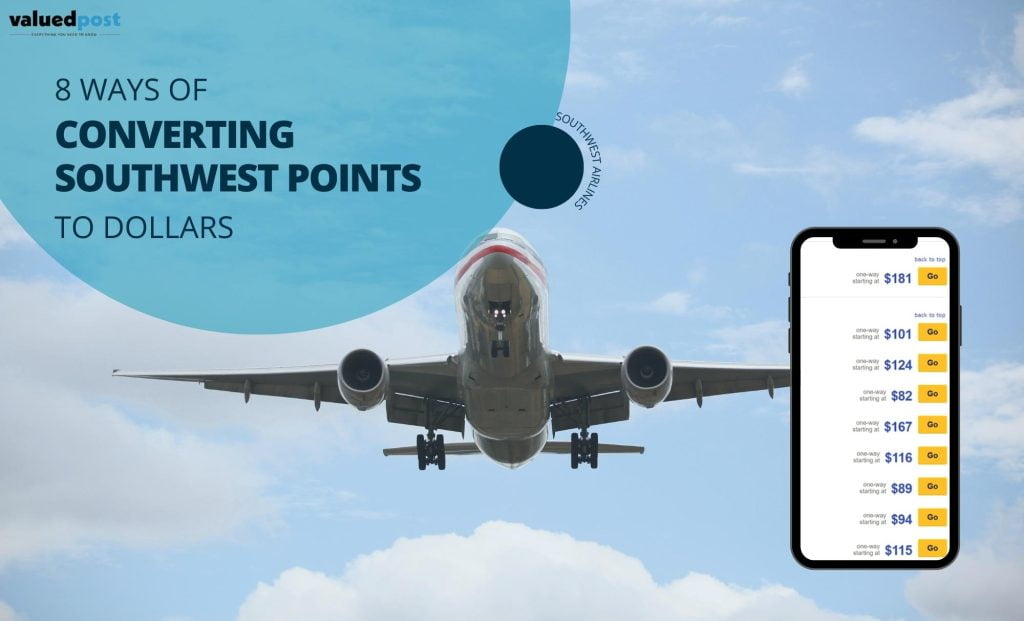 Let's check out the different ways to convert southwest points to dollars:
Gift Cards to Convert Southwest Points to Dollars
One of the items you can redeem through the southwest points is a Gift Card. Go to the Southwest Rapid reward portal. Select the more reward option, and click on the Gift card on the top right of the menu bar.
Let's check out the price according to the Gift Card amount.
| | |
| --- | --- |
| Price For Rapid Reward Members | Gift Card Amount |
| $10 Gift Card | 3,750 points |
| $15 Gift Card | 4,375 points |
| $25 Gift Card | 5,625 points |
| $50 Gift Card | 9,400 points |
| $100 Gift Card | 18,800 points |
When you use reward points to buy a gift card, you will get approximately 0.26 to 0.66 cents per point. It is even less than half of the value points when purchasing a flight ticket.
Using reward points to purchase gift cards is not a good deal. It might make sense a few times.
Hotels
Searching for a hotel and want to convert Southwest points to dollars? Let's see. Can we do it or not? Yes, you can use your rapid reward points for booking hotels. Go to the official website of Southwest Rapid Reward points, go to the travel menu, then select the Hotel Stay.
Enter basic criteria and search, including travel dates, the number of required rooms, the destination, and the number of guests. Click the search button to continue.
You can avail of the whole stay, not only just one night. If you do not have enough rapid reward points, you can purchase more points then and there.
According to the research, for hotels booked through the Southwest Rapid Rewards portal, a value of points from 0.6 to 0.7 is estimated. It is about half of the value of the flight ticket points. Moreover, if you want to change or cancel the hotel, you have to pay $35 as a cancellation fee.
Merchandise
Go to the Southwest Rapid Rewards Portal and select the Shop All option for shopping.
The main categories available there are electronics, Fashion, health, beauty, Home Appliances, Kids & babies, sports, and more.
Click any of the categories to find the subcategories for the item.
You will find the price written as points instead of dollars.
To purchase an item, click on the Add to Shopping bag button. Then, a login page will appear if you are not logged in.
Click on the Submit Order button after giving all the required details. Once an order is placed, it cannot be canceled. Check multiple times before submitting the order.
If you do not want to order online, you can place an order over the phone call on 800-833-4861. Phone call service is available from Monday to Friday from 8.00 am to 4.30 pm CST for placing orders.
If you are unsatisfied with the received product, you can return it within 30 days after the shipment.
There is a Return authorization number 800-833-4861 for returning an item.
Return shipping charges of 15% will be charged as a restocking fee.
You can contact Customer Care Service at 800-833-4861 within 24 hours of receipt.
Car Rentals
Southwest points provide the facilities for rental cars.
Select the travel menu, then select the option of Rental car from the drop-down menu.
Insert your search criteria according to your preference, including pick-up point and drop-off.
Click on Advance search options if you are looking for some specific criteria such as car type, and many more.
Tap the search button to continue.
The results will be displayed on the next page. The page will display the price in reward points.
TSA PreCheck
Another amazing way to convert southwest points to dollars. Surprisingly, you can also purchase TSA PreCheck using Southwest reward points.
The cost of TSA PreCheck for 5 years is $78. If you are a Rapid rewards credit card holder,
in the portal of more rewards, around 13,500 points are there, and approx 16,920 if you are not.
It provides you with 0.5 to 0.6 cents in value, just half of the flight ticket value. If you have no plans to use your Southwest rapid reward points, it's a good way to utilize the reward points.
Cruises
Select the travel option on the menu bar.
Select Cruises from the drop-down menu.
Make a phone call to a cruise agent at 888-658-4826 to use your points.
Prices are not mentioned on the website. Therefore, calling a cruise agent will help you for getting a good deal.
Experiences
If you want to use your southwest reward points in unique ways, click on Shop all and then Experiences.
You can find unique experiences like booking some shows, parades, and much more.
Universal Orlando Tickets
You can use your Rapid rewards for a 1-Day ticket booking to Universal Orlando. This option is found on the More rewards portal by clicking on travel and then on seasonal.
Let's check how many points are needed for different types of tickets.
| | | |
| --- | --- | --- |
| Cost of Rapid Reward Credit Cardholders | Cost of Rapid Reward Members | Universal's Ticket Type |
| 35,250 points | 44,180 points | Universal Orlando Resort 1-Day Park to Park Access Child Pass |
| 36,000 points | 45,120 points | Universal Orlando Resort 1-Day Park to Park Access Adult Pass |
FAQs
How much 80,000 southwest points worth?
80,000 Southwest rapid reward points worth around $1200.
How much are 100,000 southwest points worth?
100,000 Southwest rapid reward points worth around $1500.
After how many days do Southwest rapid reward points expire?
Southwest reward points do not expire. As long as you have an active account with Southwest, you can avail of reward points.
Is Southwest reward points worth it?
If you are a regular passenger of Southwest, the rapid reward points are very useful in shopping, renting cars, hotel booking, and many more.