Flying is the most preferred way of transport when it comes to urgency, time-saving, and of course, comfort. Unfortunately, airways follow up a bit longer process, such as security checking, check-in process, and more. For solving these kinds of problems, Delta Sky Priority is there. If you are thinking, what is it? You are in the right place. It helps you in skipping the airport rush in case of heavy crowds. Priority policy also gives passengers priority access to security lanes, boarding, check-in counters, and many more. Basically, it's a premium airport service that allows extra baggage allowances, baggage handling, and preferential boarding.
Let's discuss all the things related to it, such as what it is, how you can avail of it and of course what its benefits are.
Delta Sky Priority – What it is?
Keeping in mind, Delta Airlines created Sky Priority to make travel easier, faster, and more comfortable for their loyal customers. Moreover, Delta Sky Priority is available in airports and all major Delta hubs and where Delta connections fly. Delta offers Sky Priority which provides the best travel experience available to gold members, frequent flyer members, and also to the premium upgraded ticket passengers. Sky Priority offers valued priority services on Delta flights. Moreover, starting from priority check-in to priority boarding, the passengers are treated to a comfortable and faster travel experience.
For Sky Priority, elite members of the Sky Team Alliance Program, Virgin Atlantic Flying Club, and Diamond Medallion Program are eligible. Moreover, passengers in Delta business class can also avail of the Sky Priority facility.
How to Get Delta Sky Priority Access?
However, there are several ways to get access to Delta sky priority. Those ways are:
Medallion member
Elite loyalty member of the frequent flyer program.
Sky Team Elite and Elite Plus members
Let's discuss the membership program of Sky Priority to learn everything in detail.
Medallion Member
Although, those who qualify for the top three Medallion tiers can access sky-priority benefits. Those three tiers include:
Diamond Medallion Members
Platinum Medallion Members
Gold Medallion Members
They can be qualified by flying with delta or their partner airlines and spending. However, to qualify for the Gold Medallion member, the lowest medallion status requires 50,000 qualification miles(distance) or 60 medallion qualification segments (no. of flights). Moreover, you will also need to earn $6,000 in Medallion Qualification Dollars through your spending.
Elite Loyal Member
Delta offers sky priority also to the elite members of the frequent flyer program. If you have Gold status with the virgin Atlantic flying club, you can enjoy the same benefits as in Delta medallion member.
SkyTeam Elite and Elite Plus Members
Sky Priority also offers many benefits to the Elite Plus and Elite members with SkyTeam Airlines.
Member enjoys the following statuses:
Free extra baggage allowance.
Priority standby.
Priority waitlist.
Preferred seating.
Priority check-in.
Priority boarding.
Alternative Eligibility Criteria for Travelers to get Sky Priority Service
Here are few more ways through which a passenger can enjoy the privilege of Sky Priority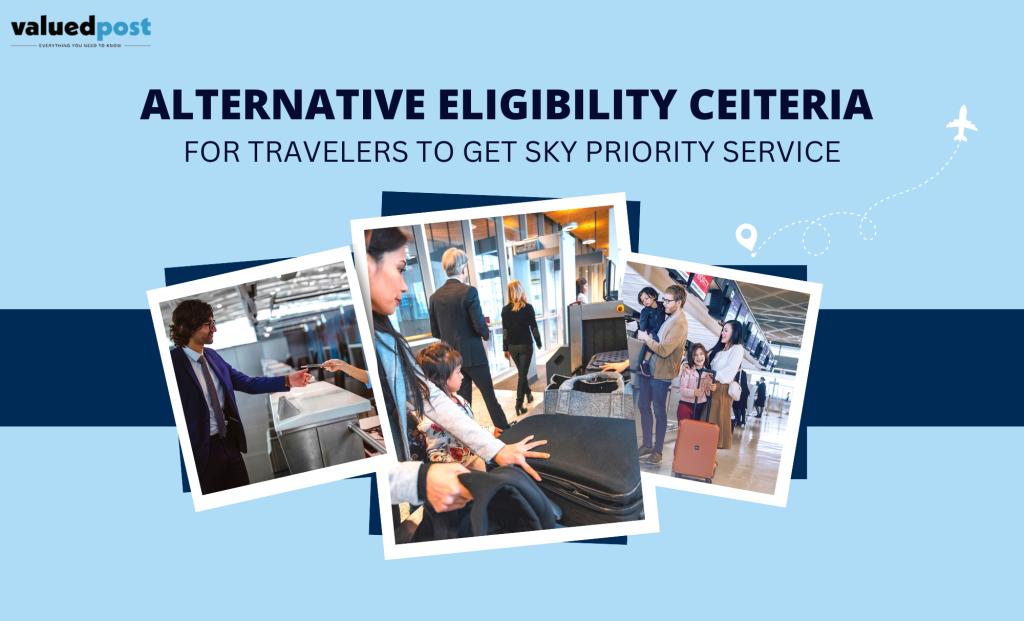 First-class and Delta One passenger.
Delta Premium passengers.
Delta Diamond, Platinum, and Gold Medallion members.
Sky Team Elite Plus members.
LATAM Pass Black Signature, Black and Platinum elite members.
What are the Benefits of Delta Sky Priority?
Moreover, sky priority provides varieties of benefits like expedited security checks and many more travel perks. Let's discuss the offers and benefits provided by Delta flights.
Extra Baggage Allowance
The extra baggage allowance, according to the piece concept provided by Sky Priority, also allows the passengers the maximum weight base. When the weight concept is applied, the passenger can carry baggage of 10kg.
So, you might be thinking of what is a piece concept. The piece concept is designed to limit and check the total weight of the passenger's baggage.
Quick Baggage Service
Sky Priority always prioritizes its passengers and expedites their baggage so that it will reach quickly on the carousel.
Priority Boarding and Seating
Before boarding, the passengers can go for the Delta airlines seat selection process in which they feel comfortable sitting. Sky priority passengers will be the 6th group to board after pre-boarding. Priority lists are as follows:
Pre-boarding
Delta One
Delta Premium Select/ First Class
Early Access Passengers
Delta Comfort+
Sky Priority
Main Cabin 1
Main Cabin 2
Main Cabin 3
Basic Economy
Faster Check-in and security
There are some committed areas where Sky Priority members can check-in. Exclusive security lines are there for the priority passengers. There are Sky Priority signs present at the airport, or you can take help from any Delta staff for assistance.
Priority Waitlist
Sky Priority passengers are the first ones on the waitlist over regular passengers.
How to Contact Delta Sky Priority?
You can reach the Sky Priority representative anytime at 1-800-323-2323 worldwide. Regarding any query, you can connect to the Priority representative, and your query will be resolved.
FAQs
Is it worth having Delta Sky Priority?
If you are a regular passenger, an over-packer, and a stressed traveler thinking of security check lines at the airport, Sky Priority is worth it.
Is Sky Priority service globally available?
Delta Medallion and elite members can access Sky priority benefits by flying with Delta and its Airline partners. This facility is available at most Delta Airlines located in the US and abroad. So, Sky Priority can be considered a global program.
Which is better TSA Pre-check or the Sky Priority?
TSA Pre-check provides passengers to follow up in a separate line. While Sky Priority can help you in reaching closer to the scanners.
Why pay for Delta Sky Priority access?
To enjoy all the conveniences of boarding earlier and crossing security check-in early, it is worth paying for Sky Priority access.