How Old Is Bill Russell? The 88-year-old NBA legend Bill Russell recently died on Sunday, July 30. According to his official Twitter account, he died peacefully with his wife by his side.
Bill Russell reinvented the game of basketball, and after that, he transformed how Americans of different racial backgrounds perceive sports.
Russell, the most successful NBA player ever, marched alongside Martin Luther King Jr., stood alongside Muhammad Ali, and was awarded the Presidential Medal of Freedom by President Barack Obama.
Most NBA Championships Player. Russell, the star of the Boston Celtics franchise that won 11 titles in 13 years, won his final two NBA championships while serving as a player-coach, becoming the first Black coach in a major American sport.
How Many Rings Does Bill Russell Have?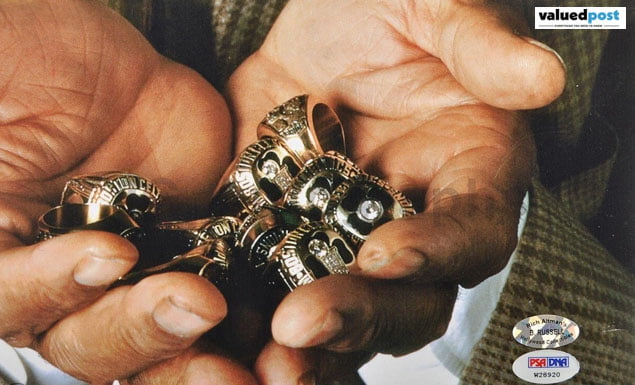 From 13 NBA seasons, while playing for the Boston Celtics, Bill Russell won 11 rings.
In the years 1957, 1959, 1960, 1961, 1962, 1963, 1964, 1965, 1966, 1968, and 1969, Bill Russell won championship rings.
Inside the world of basketball, Bill Russell is a legend. He participated in the league while there was instability in the US. At a time when many in the black community had given up on the system, he served as a beacon of hope.
During his 13 seasons with the Boston Celtics, he won 11 championships. On the court, he was the team's loud captain and defensive anchor. He engaged Wilt Chamberlain in a number of illustrious one-on-one fights, most of which he won.
Bill Russell was renowned for his mental ability and athletic prowess. He was intelligent, well-read, and still ranks among the most acclaimed game legends today.
In recognition of his services to the league during its early years, the NBA Finals MVP trophy bears his name.
Bill Russell's Net Worth
At the time of his passing, Bill Russell reportedly had a $10 million net worth. Russell played in an era when earnings weren't too high, so it's only a small portion of what professional athletes make today.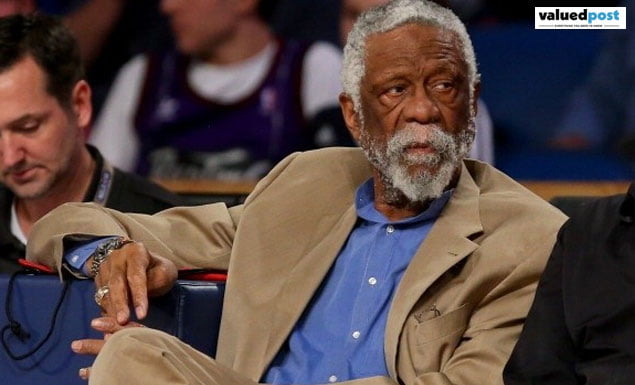 In 1956, his signing bonus was $24,000. In contrast, Paolo Banchero, the Orlando Magic's first-round choice in 2022, inked a four-year, $50.1 million contract, which is more than five times Russell's net worth.
Russell was, nonetheless, among the NBA's highest-paid players by 1950s standards. At the end of his career, he reportedly earned $100,001 annually, which is nearly equivalent to $600,000 today after accounting for inflation.
As a player-coach, he reportedly received an additional $25,000. For his final two championships with the Boston Celtics, he served as player-coach (1968, 1969).
Russell had no local endorsement agreements. But he also appeared alongside Magic Johnson, Larry Bird, and Kareem Abdul-Jabbar in an AT&T Wireless TV Spot, as well as Russell Westbrook in a Foot Locker commercial. Stephen Curry appeared in an Under Armour commercial that Russell also narrated.
Russell also had a number of properties in the USA. After living there for more than 50 years, he finally sold it in 2021 for $2.6 million.
How Tall Was Bill Russell?
Bill Russell Height? Former basketball player from the United States who is most known for playing center for the Boston Celtics. Don't call me 6 foot 10, I'm enough of a goon as it is, said gangling 6-foot 9 5/8-inch Bill Russell in a 1955 issue of Sports Illustrated. and wrote in 1969 "Simply put, I don't feel like playing right now. I'm going to play a little golf and establish myself as the most popular 6-foot-9-inch black left-handed golfer".
Bill Russell Spouse
Bill Russell Wife. From 1956 through 1973, Russell was wed to Rose Swisher, his college sweetheart. They raised three kids: sons William Jr. and Jacob, as well as daughter Karen Russell, a television commentator and attorney. After growing emotionally distant, the couple got separated.
He married Dorothy Anstett in 1977. After 12 years of marriage, he divorced Dorothy Anstett, (Miss USA,1968), in 1980.
Marilyn Nault was Russell's third wife; From 1996, they were together until her passing in January 2009.Jeannine Russell and Bill married in 2018, when Russell was 84 years old, although it is unknown how they first met.