The DJI Mini 2 is ideal for beginners, travelers, and those seeking a lighter drone with fewer constraints. You can easily share and take stunning photos with simple photo/video capture. This article contains a list of must-have DJI Mini 2 accessories.
The DJI Mini 2 is one of DJI's best-selling drones, and it is the first drone under 250 grams to include a 4K video, 12MP photos in RAW/JPEG, and level 5 wind resistance.
Best DJI Mini 2 Accessories
A DJI mini drone is the ideal companion for all of your adventures. You can now pair it with amazing accessories. Most of them are compatible with both the Mavic Mini and the DJI Mini 2. From the elegant charging base to the DIY creative kits of the drones.
Here is a list of the top 10 DJI Mini 2 and DJI Mavic Mini 2 accessories for maximum fun.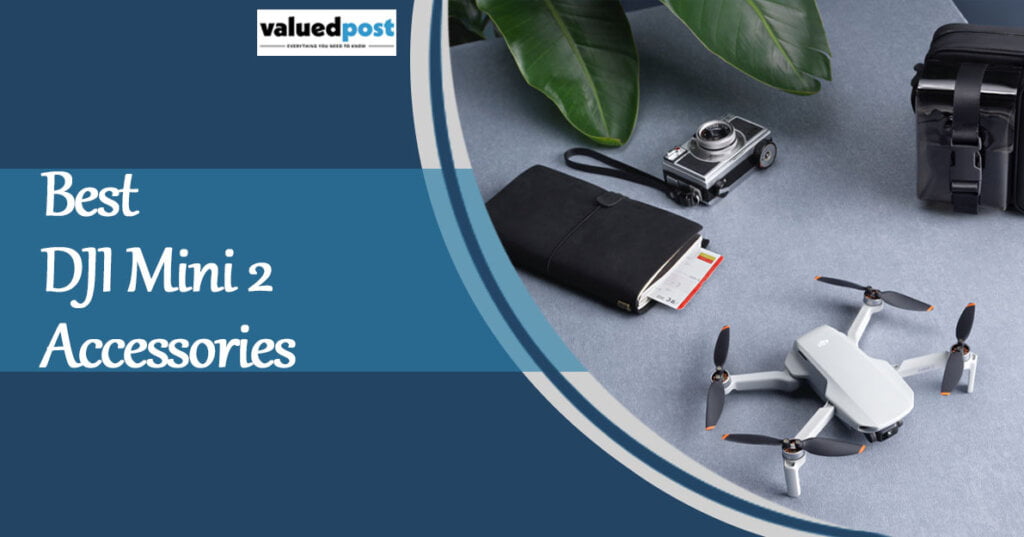 Neutral Density Filters
If you like shooting videos, ND filters are an absolute must. A neutral density filter is a lens filter that allows you to record videos at slower shutter speeds.
For those new to (drone) videography, the rule of thumb is to set your shutter speed to twice the frame rate. The Mini 2 has frame rates of 24, 25, and 30 frames per second in 2.7K and 4K. Also, 48, 50, and 60 frames per second in 19201080 Full HD.
The only way to achieve the perfect spot for cinematic video at 24fps is to use an ND filter on your lens. The ND filter reduces the amount of light hitting the sensor, allowing for slower frame rates.
Because ND filters are so helpful, there is a frequent requirement and may even supersede the category of accessories.
Intelligent Flight Battery
Don't let flight time concerns ruin your aerial adventure. The Intelligent Flight Battery is intended to give content creators more flight time, allowing them to stay in the air for longer periods of time. The battery continuously monitors the power levels of the drone. Allow the battery to do the heavy lifting so you can enjoy yourself.
Compatibility: The Intelligent Flight Battery from the international version of the Mavic Mini can be used with the DJI Mini 2. Although the international DJI Mini 2 supports the Mavic Mini's battery. The battery power will be reduced, and the total weight will be greater than 250 g, necessitating registration in certain countries and regions. Before using, please check your local laws and regulations.
The international version of the DJI Mini 2's Intelligent Flight Battery cannot be used with the Mavic Mini.
Drone Propellers
The DJI Mini 2 Propeller is always beneficial to have on hand because you never know when the blades will need to be replaced. These blades are compact, provide a quieter flight for the Mini 2, and are super simple to replace with a screwdriver.
When the blades bend, you may experience motor speed errors, or the drone may fall out of the sky. If there are any cracks, dents, or rips in the blades, they should be replaced with genuine DJI propellers.
Monitor sunshade hood
On a bright sunny day, we've all tried to read what's on our phone screens. Not being able to clearly see your screen while flying a drone is not only inconvenient but also risky.
A monitor sunshade hood is ideal. The foldable sunshade is available in a variety of sizes and easily snaps around your phone or tablet. To shield your screen from the sun and prevent reflections and glare, allowing you to see what's on-screen more clearly.
Landing Pad
One of the most popular and beneficial DJI Mini 2 accessories is a landing pad. Most landing pads are lightweight and made of waterproof nylon to protect your drone during takeoff and landing.
Small debris on the ground, such as dust, pebbles, and grass, can easily kick up and damage the inner working parts of your drone.
For example, when the drone is turned on, and the propeller blades are spinning, the motor and camera gimbal. The landing pad prevents backwash, which helps to keep the drone safe.
Landing pads are usually double-sided bright colors with reflective strips or optional lights that create your landing point much more visible when flying at night.
Mini 2 Safety Carrying Case
With a hard-shelled safety carrying case with a custom foam insert specifically designed for the DJI Mini 2, you can protect your Mini 2 drone and accessories from drops, smashes, and the elements. Your drone and accessories will be safe with a tough, drop, and abrasion-proof PP shell! You can also add extra security with a padlock insert.
Before you take your Mini 2 on a road trip, make sure to get a carrying case for both protection and convenience.