What does SCG stand for? It is technically known as spatial computing glasses. The process of interacting smoothly with computers in a three-dimensional world with augmented reality, virtual reality and mixed reality with the help of digital technology. Spatial computing uses physical space to send input and receive output from a computer.
With the help of spatial computing, many people do not interact with computers as outside could. However, they enjoy the digital realm by interacting with objects only present. This technology concept permits the marriage of the natural world and the digital background.
If we compare the technology, earlier computers had two-dimensional, but now spatial computing gives users to think out of the box and interact with the device from the background.
Some of the examples of SCG Technology: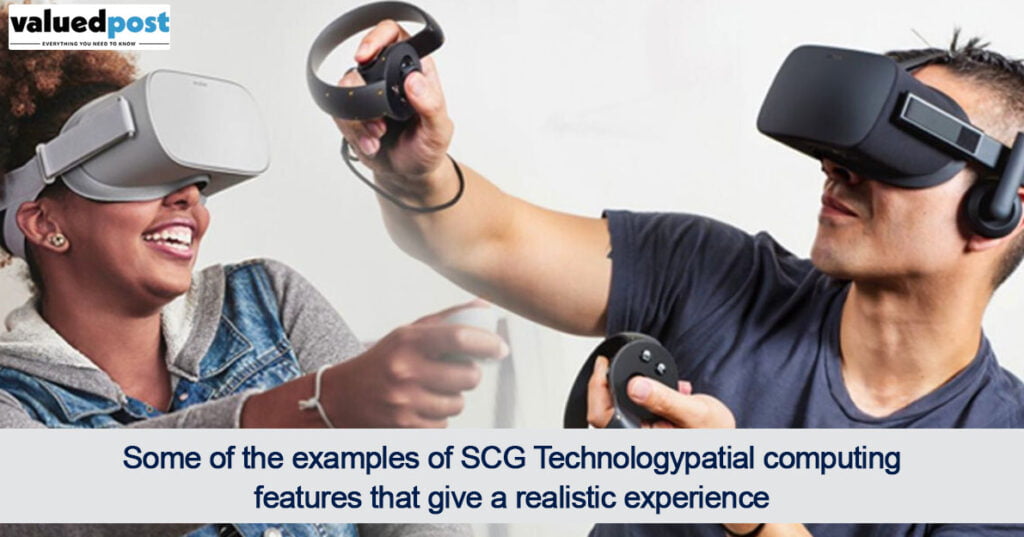 VR Headsets are devices that grant users to experience of being part of the sphere. Gamers mainly use these for interacting with video games characters or objects. Now it is also used in other applications like training.
For years, several companies have upgraded their wearable VR Headsets that allow users to interact with the digital world. Various VR Headsets are in the market, like Oculus Rift, HTC Vive, and Samsung Gear VR.
AR Glasses have unique technology that allows them to be intelligent and innovative. A microphone implanted inside smart glasses could be used to pick up the calls and use voice assistants, and many more. AR Glasses provides users to go in-depth into the digital sphere. This technology is mainly used in industrial applications. In the market, AR Glasses are of google glass and Microsoft Hololens.
Hybrid gear is the one that uses all three technologies of AR, VR, and MR. this application grants the users to have hypotonic experience as they can coordinate their senses. The appropriate example for this technology is Fell Real's multi-sensory mask. However, these applications are still under the processing stage; they might be introduced soon. The companies that will make it a reality are Samsung, goggle maps, apple and Microsoft, funding startups to create hybrid gear.   
Spatial computing features that give a realistic experience
Spatial computing uses a mixture of features to attach digital images to the real world.
Lights and sounds: In spatial computing, digital lighting combines with real-world lighting to complement the eye-brain system that clarifies how light penetrates the space and bounces off objects.
Photography: spatial computing could precisely portray the real world by using photographs that give exact measurements and depth of space. The process allows the actual duplication of the atmosphere to improve responsiveness.
Trackers and sensors: it is considered one of the best constructive ways to make spatial computing work. i.e. to pick up eye movements, hand gestures, and voice commands. For better performances, devices could respond to voices or actions using microphones and cameras.
Haptic gear: Providing sensory perception is necessary for immersing the digital sphere. When a part of hardware provides tangible output, the digital world becomes highly captivated and increasingly live.
Advantages of spatial computing glasses technology apart from gaming
The optimum perk of spatial computing is profitably to experience digital work as part of the real world. It has certain advantages that we might only have thought of decades ago. Some examples are:
– Better interactive training with staff: with the help of spatial computing, three-dimensional visualization gives employees a chance to be more interactive and engaging in pieces of training. This motivates employees to test a new feature, product or service without waiting for development completion on their own. It helps the company that their workers are getting proactive towards work that they have complete knowledge about the product to be launched.
– Less product development cost: Spatial computing made easier for both employee and employer, as they can now interact with spatial computing and make themselves used for it, which helps save cost for staff training for final product development.
– More accessible real tour estate: AR developed into spatial computing makes 3D virtual tours achievable for any property. Be it for sale under construction or still being designed. This real estate tour gives eventual clients a precise view of any location.
Technology will continue to expand, and spatial computing updates will significantly impact our lives. Although, right now, adoption is still scant because some might think spatial computing is hard to embrace, with its progress, it will excite to know where the technology will take us.