The best options for expensive wireless headphones are the Beats Fit Pro and the AirPods Pro. Both headphones are made by equally reliable companies, Beats and Apple. However, this does not imply that the headphones are identical, so let's compare the two and decide which will work best for you, after all in all, Beats Fit Pro vs. Airpods Pro.
Beats Fit Pro vs Airpods Pro – Who has Better Battery?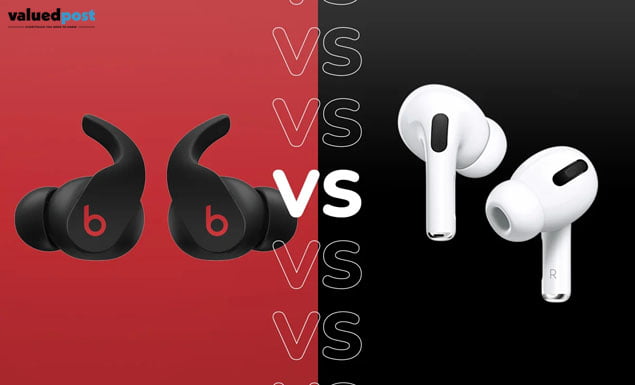 Turning off both ANC and Transparency, the AirPods Pro's listening time rises to 5 hours from 4.5 hours when ANC is ON.
Beats Fit Pro excels in this regard because you can listen for up to 6 hours with ANC switched on and for 7 hours with ANC and Transparency off.
They are both capable of quick charging. The Beats Fit Pro and AirPods Pro cases can extend the battery life to a total of 24 hours of usage.
Physical Difference – Beats Fit Pro vs. Airpods Pro
The Beats Fit Pro has dimensions of 1.18 by 0.94 by 0.75 inches, whereas the dimensions of the AirPods Pro are 1.22 by 0.86 by 0.94 inches. The lightest pair is the AirPods Pro (0.19 ounces), while Beats Fit Pro is 0.197ounces extra.
The white AirPods Pro has a downward-sloping earpiece with a stalk and two strategically placed black vents. Moreover, AirPods Pro's silicone tip helps with its ANC capabilities and ensures a secure fit in the ear canal.
Beats, as usual, design their earbuds with the "b" branding visible on the outside in place of a descender. The wingtips bend to fit into the ear folds, and a silicone tip is used for a secure fit.
Additionally, Beats wireless earbuds added vents to the Fit Pro to reduce pressure and make it more comfortable to wear for extended durations. Additionally, a setup procedure is available to guarantee a tight fit and a good acoustic seal.
Each model is rated to IPX4 and offers some amount of environmental resistance. That is, they are able to withstand splashes, sweat, and mild rain.
In comparing Beats Fit Pro vs. Airpods Pro, there is no doubt that having a color option makes the Beats Fit Pro superior to the AirPods. Apple only offers the standard white color for their earbuds, whereas Beats wireless earbuds give four color options: Beats Black, Beats White, Sage Gray, and Stone Purple.
Compatibility and Connectivity
The Beats Fit Pro contains an Android app made specifically for them in order to enable features like specific testing of the best-fitting silicone tips, 1-tap pairing, and immediate switching of listening modes. It also offers a display of battery life.
AirPods Pro does not have comparable functionality to Android devices, but their purpose is obvious, given how easily and quickly they sync with Apple devices.
The Beats Fit Pro does not support wireless charging. Hence Qi charging must be performed via the provided USB-C to USB-C connection. AirPods Pro cases include a Lightning to USB-C cable, and now they also support MagSafe.
Apple is using Class 1 Bluetooth for this connection. It has stronger signals than Class 2. The complete setup communicates over Bluetooth 5. It does have an amazing range, with all connections occurring at a distance of more than 100 feet.
Beats Fit Pro vs. Airpods Pro – Which has a Finer Case?
Both sets of wireless earphones include carrying cases that, when closed, permit charging of the accessories.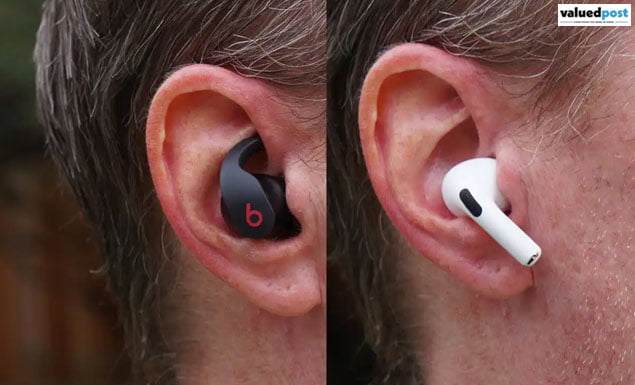 When you open the cases, you can tell that Apple didn't squander any inside space. In contrast, the Beats Fit Pro case appears to have a lot of extra space. The Beats case is attractive on the inside, too, with a light interior that contrasts nicely with the Fit Pro's darker color selections and the white-on-white design of the AirPods Pro.
While AirPods Pro sets come with wireless charging, Beats doesn't. To restore power to the case, you must use a USB-C cable.
Beats Fit Pro vs. Airpods Pro – Common Grounds
On the Beats Fit Pro vs. Airpods Pro list, the H1 processor is used by both earbuds and offers a relatively comparable set of functionality across the board.
One-touch pairing, iOS integration, "Hey Siri" support, and automatic switching between Apple devices, are all included. Additionally, both earbuds support Spatial Audio, which includes dynamic head tracking, and Find My assistance for locating misplaced headphones.
For a better listening experience, both Beats Fit Pro and AirPods Pro can filter out part of the background noise.
Beats Fit Pro and AirPods Pro include Transparency Mode, which enables users to stay aware of their surroundings by allowing some environmental sounds to flow through ANC.
After comparing the Beats Fit Pro vs. AirPods Pro, you can see both headphones' usability and performance on both platforms.
With more compatibility options, the Beats Fit Pro is a better alternative if you own an Android device. For Apple users, though, the AirPods Pro is a superior option.
The more excellent grip of the Beats earbuds is preferred if you engage in a lot of activity or hands-free activities, especially if you desire a longer battery life. But it is yet to be seen if this will be enough to sway potential AirPods Pro purchasers.
FAQs
Does Beats Fit Pro is better than AirPods Pro?
Beats Fit Pro boasts practically all the capabilities you would expect from an Apple wireless earbud, including Dolby Atmos, ANC, Transparency mode, and easy pairing with other Apple devices. However, if you add physical features to your list, Airpods Pro has an edge.
What is the price of Beats Fit Pro and AirPods Pro?
The Beats Fit Pro is available for $199. Usually, the AirPods Pro costs $249. The good news is that the earphones are widely available at non-Apple outlets for far less money.
Can you swim with Beats Fit Pro?
No. Beats Fit Pro has IPX4, which provides resistance against sweat, light rain, and splashes. It is not safe for high-pressure steam or immersion in any liquid.
Does Beats Fit Pro have a mic?
Three microphones are included in each Beats Fit Pro earbud, allowing for high-quality call performance.
Do Beats Fit Pro Support Hey Siri?
Since the Beats Fit Pro have an Apple H1 chip, it facilitates immediate connection and audio sharing. It allows Betas Fit Pro to have Siri support.