Austin is the capital of Texas, making it the central attraction of the state, but Houston is the largest metropolis in Texas and is majorly famous for its NASA space center. However, it is also fully packed with world-class museums, parks, and restaurants. Traveling via car or a train from Houston to Austin lets you explore the many captivating and thrilling scenic places between the two cities. But there are a few questions that arise in mind like, "How far is Austin from Houston?", "How to travel to Austin from Houston?".
Advantageously for those living in Houston, Austin is only 162 miles away, making it the perfect choice for weekend escapes.
Moreover, these two cities are in the same province yet possess widely distinct food and culture. They can be close in the distance, but there are many different and eye-catching things to see in the Lone star state.
How Far is Austin from Houston by Car
One can take three different ways to travel in Texa without stopping. For those who don't want to drive, there are bus companies like Megabus, Vonlane, and Greyhound that can carry you from one city to the next immediately.
You can review the routes below and decide which appeals most to you to travel from Houston to Austin.
| | | |
| --- | --- | --- |
| Route | Distance | Time |
| I-10W | 189 miles | 3 Hours |
| I-10W and State Highway 71-W | 165 miles | 2.5 Hours |
| US-290 W | 162 miles | 2.5 Hours |
The longest route, I-10W, takes you from Houston, TX, to Austin, TX, over a distance of 189 miles in around three hours.
I-10W and State Highway 71-W are the alternate routes, which cover the 165 miles distance in approximately 2.5 hours.
The third and last route to travel by road is US-290 W, a 162-mile journey that takes 2.5 hours.
How to Travel From Houston to Austin via Bus
Traveling from Austin to Houston by bus can be inexpensive and hassle-free. There are direct routes between the cities offered by various operators.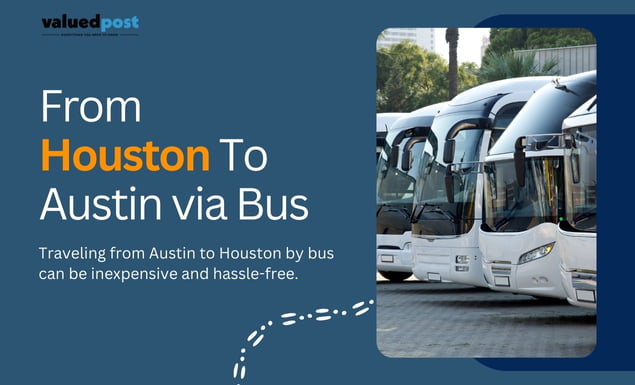 | | | |
| --- | --- | --- |
| Pick-Up Point | Drop-point | Ticket Price |
| Select Shell Station – 13250 FM 1960 W | 1500 San Jacinto Blvd, Austin | $ 18 to $ 30 |
| Downtown Greyhound Station | 916 E. Kenneth Lane, Austin | $ 25 to $ 35. |
How Far is Austin From Houston via Train?
Between these two Texas cities, there is only one rail service. Amtrak offers two daily trains on this route. A train travels 150 miles in around 3 hours and 40 minutes. During the travel, you can enjoy watching movies or listening to music. Considering that there are only two trains, boarding a rail from Houston to Austin is not an ideal option.
Traveling to Austin From Houston by Flight
Taking a flight takes one hour to go nonstop from Austin to Houston. It is a convenient and speedy way to get between the two cities. It can end up taking you longer to fly than to drive if you factor in the time it takes to get to and from the check your bags, airport, and go through security.
Only United and Southwest flight companies operate nonstop flights between Austin and Houston. Also, the prices aren't the lowest. The round-trip tickets often cost between $200 and $300, making it an expensive option.
Alaska and American airlines are two additional carriers that offer service between the two cities. However, these are connecting flights, and layover time is very high.
Best Places to Enjoy Between Your Road Trip
Mustang Island:
The popular state park is on a barrier island and includes a dog-friendly beach. It's a lovely spot for sunbathing and swimming.
Rockport Beach:
It is a superb man-made beach on the south coast of Texas. Popular for its cool sand and family-friendly features like play areas, volleyball, picnic tables, and a dock, that is an excellent place for fishing.
Padre Island National Seashore:
This place is a popular spot for windsurfing. It includes Laguna Madre and various iconic beaches and sand dunes.
Choke Canyon Reservoir:
You can find alligators resting on the banks (Be careful). This attractive waterbody is a wonderful place to enjoy fishing, especially for catching catfish.
Palacios:
There is no denying that this place is the shrimp capital of Texas. Palacios offers various types of shrimp on the dining table as mouth-watering dishes.
Matagorda Bay:
This bay extends up to 55 miles of coastlines and also consists of hundreds of miles of creeks and rivers and habitat of a variety of fish species making it a superb place for fishing.
Galveston:
Galveston is a magnificent historical town with various rich heritages, such as iconic restaurants, architecture, and museums. The city has the famous Galveston Railroad museum, Naval museum, Bryan museum, and Moody garden.
Freeport:
Freeport is famous for wildlife and bird-watching views. It has amazing Gulf coast beaches making it the major tourist coastal attraction, and also it is a perfect place to go camping.
New Braunfels:
It is a charming German town well known for its boutique and vintage stores as well as for holding numerous fantastic events. The vintage city is on the banks of the Comal and Guadalupe rivers, which provide a tonne of fantastic outdoor water sports choices.
Corpus Christi:
The Corpus Christi Museum of Science and History, the Texas Surf Museum, and the Texas State Aquarium are just a few of the top attractions in this popular South Texas city. Windsurfing, kite flying, kiteboarding, sailing, and bird watching are among popular activities there.
San Antonio:
San Antonio is the seventh-largest city in the United States. People consider it a barbecue's birthplace. It offers a variety of popular tourist destinations, including the San Antonio Botanical Garden and the Alamo. Moreover, the Buckhorn Saloon and the Texas Ranger Museum both offer authentic Old West experiences.
Braunig Lake Park:
Beautiful park with a man-made lake that provides great boating and fishing opportunities. It is an amazing location for bird viewing, picnicking, and camping.
Frequently Asked Questions
Is living more affordable in Austin or Houston?
Austin, TX, has an 11.5% higher cost of living than Houston, Texas.
Which city is hotter, Austin or Houston?
Houston is hotter because of its vicinity to the Gulf of Mexico, whereas Austin stays drier in the summer because of its inland geography. However, Houston receives more rain compared to Austin.
Does Amtrak provide service between Houston to Austin?
Yes, Amtrak is the only rail line to provide service between Austin and Houston. The train only travels twice a day. Therefore the schedule is relatively constrained. The train ticket price to Austin from Houston varies from $ 30 to $ 40.
Which is a better option to travel from Houston to Austin, a car, a train, or by flight?
From a dollar point of view traveling by car is cheaper and you can enjoy a lot of scenic places in between. However, from a time-saving point of view, the flight is the best option.
People Also Ask For: