The umbrella academy already has two seasons and is now preparing to release season 3.
The series is the next installment of Gerard Way and Gabriel Bá's highly successful comic book series. The plot revolves around a group of superheroes adopted by an eccentric billionaire. Pulled together with a funeral and the danger of the apocalypse. Superpowers, time travel, a speaking goldfish, and a slew of odd and unique twists and turns are all part of the series.
It's a fresh timeframe with much promise and fantastic mysteries still disclosing.
When will production for Season 3 of The Umbrella Academy begin?
Umbrella academy announced the season in November 2020. Season three started filming just three months later, in February 2021.
Elliot Page, an actor, submitted an Instagram shot with the message, "Omg, we're back again." Other cast and crew have also shared images from the set. However, they have not provided any details about the filming.
In April 2021, Tom Hopper told Collider there is still "a long way to go."
In an interview with Collider, Scott Derbyshire revealed that production initially had to begin in August 2020. They were filming wrapped on August 28, 2021, instead of the anticipated August 30, 2020.
What Are the Episode Titles for The Umbrella Academy Season 3?
The upcoming season of Umbrella Academy will be Season 3, consisting of 10 episodes. Showrunner Steve Blackman unveiled the names of the future episodes in June 2021, but what they imply is anyone's guess.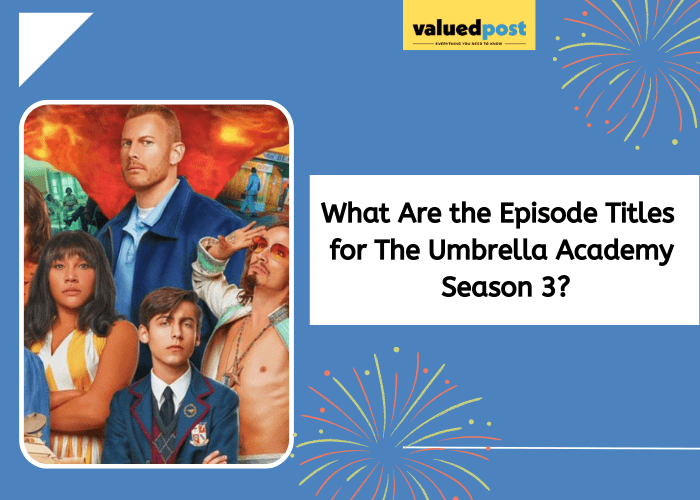 The episode names are as follows:
S3E1: "Meet the family."
S3E2: "The world's Biggest Ball of Twine."
S3E3: "Pocket Full Of Lightening"
S3E4: "Kugelblitz"
S3E5: "Kindest Cut"
S3E6: "Marigold"
S3E7: "Auf Wiedersehen"
S3E8: "Wedding At The End Of The World"
S3E9: "Six Bells"
S3E10: "Oblivion"
Are there any new characters in The Umbrella Academy cast!
Reginald Hargreeves, the main character, adopted a new group of youngsters and christened it to the Sparrow Academy. The BBC has declared that the catastrophe has not occurred following their time-traveling experience in Season 2.
The Sparrows are the great enigma of the next Secret Super Powers season. The show's premise starts with the birth of 43 superpowered children, of whom we've only seen a few. The Sparrows are most likely some other youngsters.
We'll try to get to know these mysterious new people as the season progresses, but what do they honestly think of each other?
Marcus / Sparrow, played by Justin Cornwell, looks to be the Sparrow Academy's leader. According to his description, he is a lovely, sculpted colossus. Marcus, honest, pious, and demanding, holds the family together.
Britne Oldford will play Fei / Sparrow Number 3, a sharp and biting character longing for love. She appears to be a sociopath who would prefer to be there than spend even a single moment with you. If you cross her, there will be no turning back because Fei will not stop until he completes the mission.
Jake Epstein plays Alphonso / Sparrow Number Four, who appears to be a clone of Diego. Sloane / Sparrow Number 5, played by Genesis Rodriguez, is the more emotional and sentimental of the Sparrows. According to her description, she is romantic and then a dreamer that feels a more profound cosmic calling that drives her to travel the world. But her commitments to her family and her dread of breaching the family line keep her anchored at Academy.
It's unclear whether Christopher was one of the 43 infants or whether he's still alive.
Jayme, a problematic character with few friends, will be played by the actress. She identifies herself as a recluse who hides behind a hoodie. She says little since she doesn't want to.
Here is His character description:
Christopher is a telekinetic cube of unknown origin who can freeze the room and cause paralysis. He serves as the Sparrows' consulted oracle, giving excellent counsel and acting as the family mediator. Christopher is a formidable opponent who is treated as any other sibling.
Ben Hargreeves, the Sparrows' Number Two, will be played by Justin H. Min in a new role. He is a fierce and ambitious strategist who aspires to be the best in the world.
The umbrella academy review
The third season of The Umbrella Academy begins in a different location from the first two seasons. The first few episodes are entertaining, but the pace slows as the characters try to figure out what is going on in their contemporary apocalypse and deal with some growing pains. It takes a bit for things to get up and lean into what this series excels at: diving into the complicated relationships between the brothers. Give it some time – or, more precisely, three episodes. No single member of the Hargreeves family has the shaft, story-wise.
As Viktor and Allison, Elliot Page and Emmy Raver-Lampman provide dismal performances. It's difficult to be angry at the diversions when Robert Sheehan portrays Klaus with such charm. Season 3 is essentially about how families, no matter how often love and commitment they have, may fail us.