HR management courses provide a lot of emphasis on developing your talent management, recruiting, inclusion, and diversity management skills. The leading corporate organization in Australia, the Australian Human Resources Institute, offers a study program that leads to postgraduate HR certification.
AHRI organizes conferences of the highest caliber. It offers professional training and certifications in HR, client relations, and business skills, holds seminars, and provides networking opportunities all around Australia.
Australian Human Resources Institute also provides assistance to governments in the creation of law and policy that impacts workers. The organization establishes high standards through the accreditation of HR degrees at universities all around Australia and research into people management techniques.
Australian Human Resource Institute Membership
In support of the people profession for over 75 years, AHRI has developed the worldwide acclaimed Model of Excellence, which serves as the cornerstone of "excellent HR." Australian HR Institute (AHRI) is a national organization that represents experts in human resources and people management professionals. They have about 20,000 members in total, both in Australia and abroad.
There is an AHRI Membership category for support for every experience level, whether you're just starting your HR studies or have years of expertise in the field. Thanks to the Australian Human Resource Institute membership, your career will benefit from additional networking opportunities, mentoring, and support.
Being an AHRI member allows you to stay current on the most recent developments in human resources.
Are HR professionals in demand in Australia?
One of the industries that have expanded significantly during the past two years is human resources. This profession is in demand because of its stability in employment, high-income potential, influential position, work flexibility, and emotional fulfillment.
Due to the skills shortage and fierce talent competition, an increasing number of firms are realizing the need for talented professionals. Professionals who can attract and retain the most exemplary employees and build devoted teams. This has been the primary driver of the high demand for HR specialists.
Over the following several years, there will likely be a significant increase in the number of open positions. According to trends and surveys, there will likely be 90,500 HR professionals by 2025, up from 65,000 in 2020. This puts you in a good position if you want to work in human resources as a profession.
Relevant HR Manager Courses In Australia
The greatest level of education for HR managers is a bachelor's degree, which is held by about 32.5 percent of HR management professionals in Australia. In contrast, a graduate certificate or postgraduate diploma is held by 23.7 percent of HR managers in employment.
If you decide to earn an HR bachelor's degree, here are a few options:
Human Resources Management Diploma (6-8 months).
Human Resource Management Bachelor's degree (3 years of full-time study).
Bachelor of Business Administration in Human Resources (3 years of full-time study). If you already have a bachelor's degree, then you can go for:
A Master of Human Resource Management.
Graduate Certificate in Human Resource Management (1.5 years full-time).
Depending on the professional path you pick, it may require 3 to 5 years of full-time study to become eligible for an entry-level Human Resource Manager position in Australia. Many universities offer online as well as offline courses. University accredited by the leading Australian Human Resources Institute is the best to choose from.
Career Paths for HR Managers in Australia
There are multiple employment opportunities in the HR domain. In small and large businesses, in the banking, healthcare, retail and manufacturing, aviation, social aid, and shipping industries, HR officers are employed.
HRs are primarily in charge of staffing issues in small businesses specializing in a particular area. Such as pay, benefits, hiring, or staff training, in large enterprises.
Further, state, territorial, and federal government departments also offer employment possibilities.
How much money does an Australian HR manager make?
Australia's human resources salaries range from $70,000 to $135,000. However, it depends on several variables, including education, work history, industry, etc.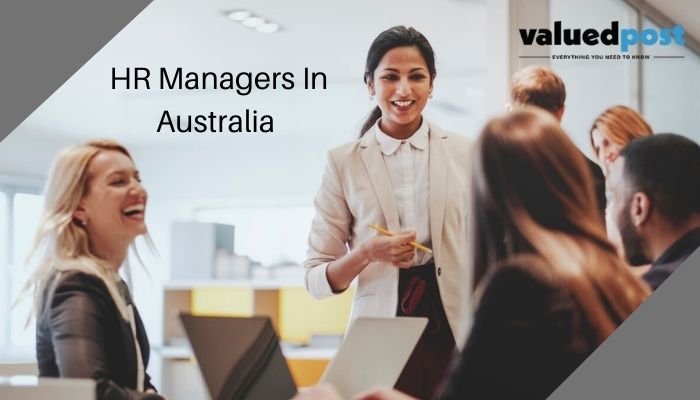 Based on experience-based pay
A Human Resources Manager with under a year of experience may expect to make AU$66,944 annually.
Earnings for HR Managers in their first four years of employment are AU$76,940.
A human resources manager in the middle of their career makes AU$95,004.
The average income for an experienced human resources officer in Australia is AU$102,187 (10 to 19 years of experience).
Employment Hours for Human Resource Managers
In Australia, in contrast to the industry average of 66 percent, which is relatively high, almost 87 percent of HR managers work full-time. Comparatively, Forty-eight hours of service are performed by full-time employees each week.
In this industry, the working age is 45 on average. Approximately 60 percent of the employed staff comprises women, which is higher than the industry average of 48 percent.
However, the diversity of the job and the chance to improve a business make a career in human resources quite gratifying. The aforementioned career path will assist you in realizing your dream, regardless of whether you are new to human resources or working in a junior-level position.