United Airlines' pet policy allows its passengers to carry their pets along with them or on a separate cargo while traveling. It offers safe travel commitments for passengers' pets. However, united airline's pet policy differs for domestic travel and international flights. Read more about the united pet policy in the following blog to avoid any obstructions for your pet during check-in and clearance.
United Airlines Pet Policy: In the Cabin
The Pet policy of united airlines is applicable to United Airlines and United Express flights. Domestic cats and dogs can travel on international and in-US flights. However, there are many restricted animals that cannot board the planes, which we will discuss further. Also, there are specific container dimension requirements that need to comply with the United pet policy.
Also Read: How to Get Access to United Airlines Premier Access?
Types of Pets Allowed on United Airlines Cabin
United Airlines allows passengers to bring small dogs, cats, rabbits, and household birds inside the cabin with them. The airlines do not permit cockatoos to fly. The pet animals should remain in their container and below the passenger during the whole flight route.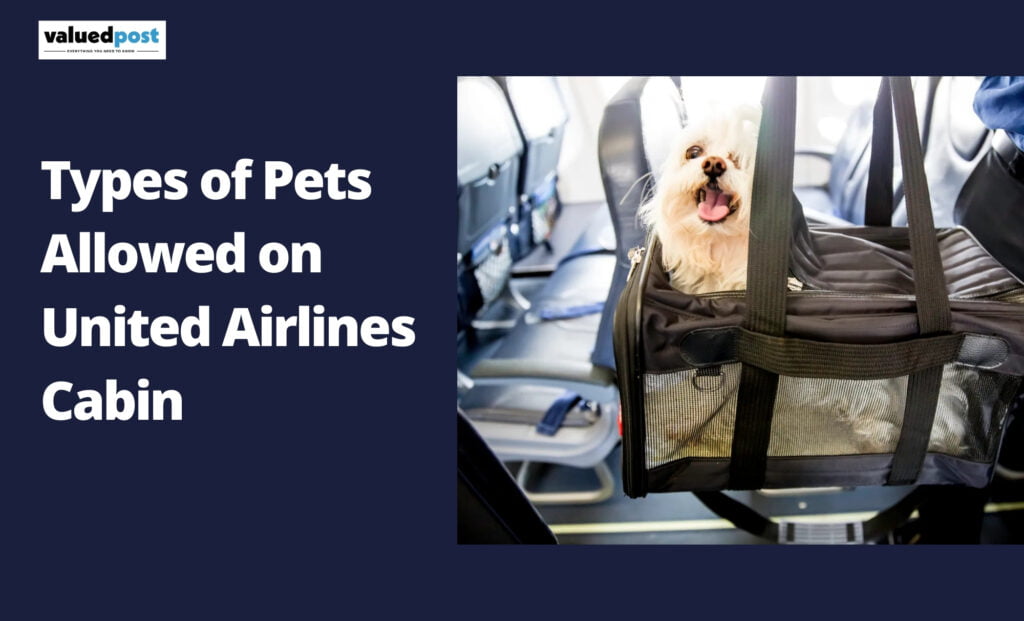 Number of Pets Allowed to Board United Flight
According to United's Pet Policy, each traveler can carry a maximum of one pet in-cabin pet container with them. If a traveler wishes to bring two animals into the cabin, they must pay for two separate tickets.
There is a limit of six animals that can travel in the cabin of wide-body aircraft operated by United and United Express Flights on travels inside the continental United States. On the other hand, United allows only four pets on board economy class flights on narrow-body aircraft.
Travel Documents Required as Per United Pet Policy
Travelers who carry their pets in the cabin must present
Health certificate from a certified vet.
A rabies certificate to confirm a recent rabies vaccination was given more than 30 days before the trip. check more details on the United Airlines Website.
In Cabin Restrictions for Pets in United Airlines
The pet animal should be 20 cm tall to be eligible for travel with United in cabins.
The weight of the animal should not exceed 20 pounds.
Due to limited space under the seat, pets are not allowed in First or Business Class on Boeing 757, 767, 747, or 777 aircraft.
On flights to and from Hawaii, Cuba, Australia, Panama, New Zealand, Trinidad & Tobago, South Africa, Guam, United Kingdom, or India, pets are not permitted in the cabin.
United Airlines: Pet Container Dimensions
United Airlines strictly adheres to the pet carrier dimensions for in-cabin pet travel. According to the United Airlines pet policy, the container should have a waterproof bottom.
| | |
| --- | --- |
| Type of container | Dimensions |
| Hard side carrier | Should not exceed 15.5 in x 12 in x 7.5 inches. |
| Soft side carrier | Should not exceed 18 in x 11 in x 11 inches. |
United Airlines Pet Policy
United Airlines demands passengers bring their pets in a secure container with proper ventilation. Moreover, the pet container will be considered a piece of carry-on baggage during check-in.
Each container can carry only:
One dog or a cat.
Two household birds.
Two puppies or kittens
Either two rabbits or guinea pigs.
United Airlines: In-Cabin Fare For Pets
United Airlines charges a pet fee of USD 125 for one-way travel. Additionally, there is a $125 extra cost for each stopover of more than four hours on domestic flights and more than 24 hours on international flights. Passengers cannot utilize their United travel credits to pay this fare.
Also Read: Can Unaccompanied Minors Travel on United Airlines?
United Airlines Pet Policy: In Cargo Travel
United Airlines offers the PetSafe program, which is specifically made for animals that can't travel in the cabin. Under their PetSafe Program, United Airlines will transport dogs and cats that are too big to fit in the cabin or that are traveling alone in the cargo hold.
Crate Dimensions as per United Airlines Pet Policy
As per the United pet policy, a kennel or crate should not be taller than 34 inches. Also, the container must adhere to regulations set forth by United Airlines, International Air Shipping Association, and the USDA.
Passengers should ensure that a dog must be able to stand up and turn around freely inside their kennel. Each crate can hold only one dog at a time.
Travel Documents Required by United Airlines
For easy pet travel in the United cargo space, the following documentation is necessary.
Submit the customer acknowledgment form before departure.
Provide a valid veterinarian's health certificate, not older than 10 days.
Provide a photo of your dog and their travel crate that is crisp and clear.
Mention the last time your dog received its meals.
United Airlines Pet Policy: Cargo Restrictions
India, Dubai, Australia, Lagos, and Nigeria are among the destinations that United Airlines does not serve.
The American Shepherd, American Pit Bull Terrier, Japanese Spaniel, Chow Chow, English Toy, and American Pit Bull Terrier are among the few dog breeds that United Airlines prohibits.
Travel Cost for Pets in United Cargo
The price for making a reservation with United Airlines PetSafe entirely depends on the combined weight of the dog and its crate. The charges may vary according to the routes and flight carriers. For costs and shipping choices while traveling abroad, passengers can request fare breakage with the International Pet and Animal Transportation Association (IPATA). All pet transportation costs must be paid in advance, according to United Airlines.
Frequently Asked Questions
What is the age limit for pets as per United pet policy?
Under United Airlines' pet policy, animals must be at least two months old for domestic flights and four months old for international flights.
What are the documents required for a pet traveling in a United Airlines cabin?
Passengers traveling with a pet must present a health certificate and rabies vaccination certificate, confirming a recent rabies vaccination given more than 30 days before the trip.
How much does it cost for a pet to travel with United Airlines?
United Airlines charges $125 for each way on domestic flights. Flights with more than four hours of layover in the domestic region will charge an extra fee of $125.
Is United Airlines' PetSafe program inactive?
Due to Covid restrictions, United Airlines no longer accepts PetSafe reservations.