Recent changes made by Delta Airlines include the addition of a trackable wristband, free access to the Sky Zone lounge for children, and a Delta crew member to watch after your child throughout the journey. In this post, we will go over all of the guidelines that you need to be aware of before booking your child through the unaccompanied minor program offered by Delta Airlines.
Delta Unaccompanied Minor Policy
According to Delta Unaccompanied minor policy, kids between 5-14 are eligible for this service by Delta airlines and are subject to a fee of $150 for one way.
Here are the policies you should know before booking a ticket for your kids under unaccompanied minors:
The person purchasing the ticket for the minor must declare if they are the parent/ guardian or if they authorize to act as one of them.
For domestic flights within the US, unaccompanied minors must be issued an adult fare. Unaccompanied minors delta will be charged an airfare equal to 75% of the adult's price while traveling internationally.
Minors between 15-17 are also allowed to travel under the unaccompanied minor program only through the discretion of their parent/guardian
Parents can only escort their kids till the security is beyond that the designated crew member will take over.
Delta SkyZone facility is also available for minors, where they get an unlimited buffet and video games, which are available in limited airports.
Delta airlines reserve the right to cancel the minor ticket due to any technical error or inconvenience faced.
Age For Unaccompanied Minors on Airlines
Delta allows unaccompanied minors under the age of 14 to use an accompaniment service provided by the airline at their parents' or guardians' sole discretion.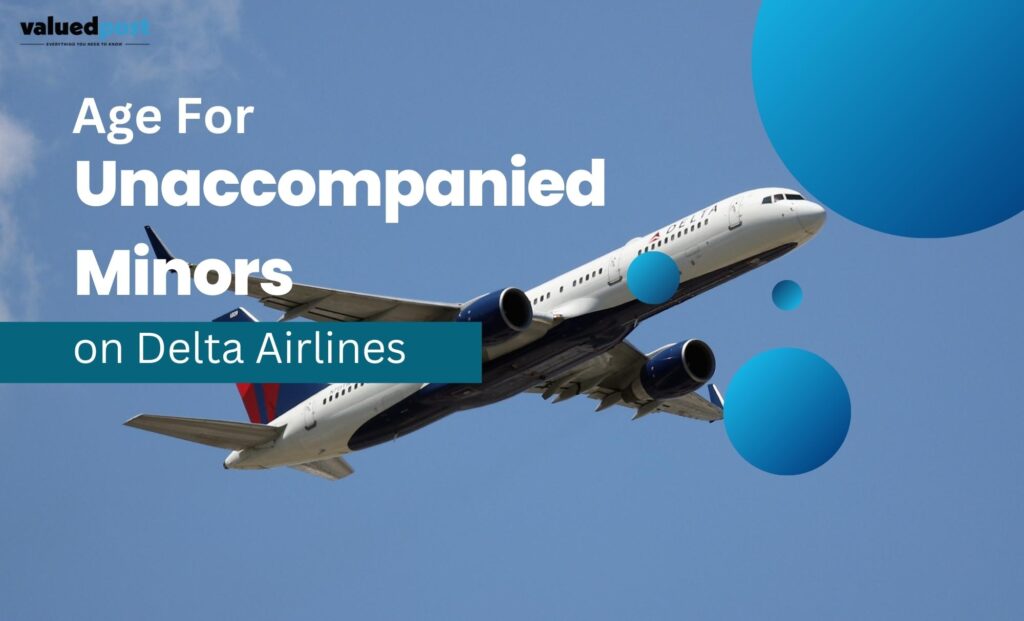 Children between the ages of 5 and 14 are entitled to use the companionship services provided by Delta under its unaccompanied minor policy.
4 years or younger

: Delta Airlines does not allow children of this age to travel alone they must be accompanied by their parents/ guardian

5-7 years

: They are eligible to fly under this policy and are eligible to ride on direct flights. They are prohibited from taking the day's last connecting flight.

8-1 4 years of age

: kids of this age are allowed to travel or interconnect and direct flight both. They are even allowed on codeshare flights but only on Air France, KLM, and Mexico.

15-17 years of age

: Although they are eligible to travel without this policy if the parents want to enroll them as unaccompanied minors, they get the same treatments and policy
Delta Unaccompanied Minor ID Requirements
The parent must provide the following ID of the minor:
Photo ID (License, passport and birth certificate)
Address that is in the ID
Contact details of parents/ guardians of departure and arrival
Photo ID of parents/ guardian on both sides
There are certain rules that apply to unaccompanied minors while travelling, which parents/guardians must keep in mind:
Kids between 8-14 are eligible to travel only on flights outside the united states
The tickets cannot book for overnight flights for unaccompanied minors
No unaccompanied kids are eligible to board flights on delayed flights.
Codeshare flights for minors are only eligible on Mexico, Air France, Royal Dutch Airlines, and KLM.
How to Book Flight for Unaccompanied Minor On Delta
There is a total three-way through which you can book tickets for minors on Delta airlines:
Book online

: You can directly visit the site of delta airlines and book tickets for an unaccompanied minor. Delta charges fees at the end when you make the payment for the tickets.

Delta Unaccompanied Minor Phone Number

: Call 800-325-8847 to get all the information and book tickets for your kids they will also guide you on how to go about it when you leave the kid at the airport.

Book At the Airport

: If in case you were not able to book the ticket by the above two methods, you can also visit the airport and book tickets for unaccompanied minors. But make sure you carry all the required documents.
Delta Unaccompanied Minor Fee
According to Delta's minor policy, traveling solo costs $150 roundtrip. Between the ages of 5 and 14, minors must pay the 150 USD Delta minor fee. If siblings or friends are flying together, the price covers up to 4 persons.
| | | |
| --- | --- | --- |
| The Age of The Kid | Travel Restrictions | Unaccompanied Minor Fee |
| 4 years and younger | Not Permitted | Not Applicable |
| 5-7 years | Permitted on direct flights only | 150 each way up to 4 kids |
| 8-14 years | Permitted on all flights | 150 each way up to 4 kids |
| 15-17 years | Permitted on all flights | 150 each way up to 4 kids |
Frequently asked questions by parents/guardians
Can a 14-year-old trip alone on a Delta flight?
Children aged 5 to 14 must sign up for the Delta Air Lines Unaccompanied Minor program. When making the reservation, please let the agent know if you would want for your 15 to 17-year-old to travel unaccompanied. This will be noted.
Is there a charge for unaccompanied minors at Delta?
For the Unaccompanied Minor Program, Delta Airlines charges a price of $150 USD/CAD/EUR per way. The cost is charged for domestic flights as well as international nonstop and connected flights.
Do minors need birth certificates for Delta?
Children under the age of two are entitled to free lap seating on Delta flights. Two adults are required if you want to fly with two lap children. To establish their parental status, parents may be required to show a birth certificate.
What proof of identity is required for a youngster to fly Delta?
Each traveler who is at least 18 years old must present valid photo identification that exactly matches the name on the boarding pass. To board an aircraft, passengers under the age of 18 are not required to present identification.
DO YOU WANT TO KNOW ABOUT OTHER AIRLINES