The various airlines have different norms and regulations for baggage. The rules change according to the travel class and routes. However, the policy of Air France baggage allowance is uncomplicated. It provides travelers flexibility and budget pricing over the pieces of baggage. If you are unaware of the Air France baggage allowance criteria and limitations, you don't have to be worried. In the following blog, we will dive into the details of the Air France baggage fees and permissible baggage in various travel cabins.
Air France Baggage Allowance for Carry-On Bags
Air France allows passengers to bring bags in the cabin. However, there are size restrictions and weight limitations for Air France Carry-On bags.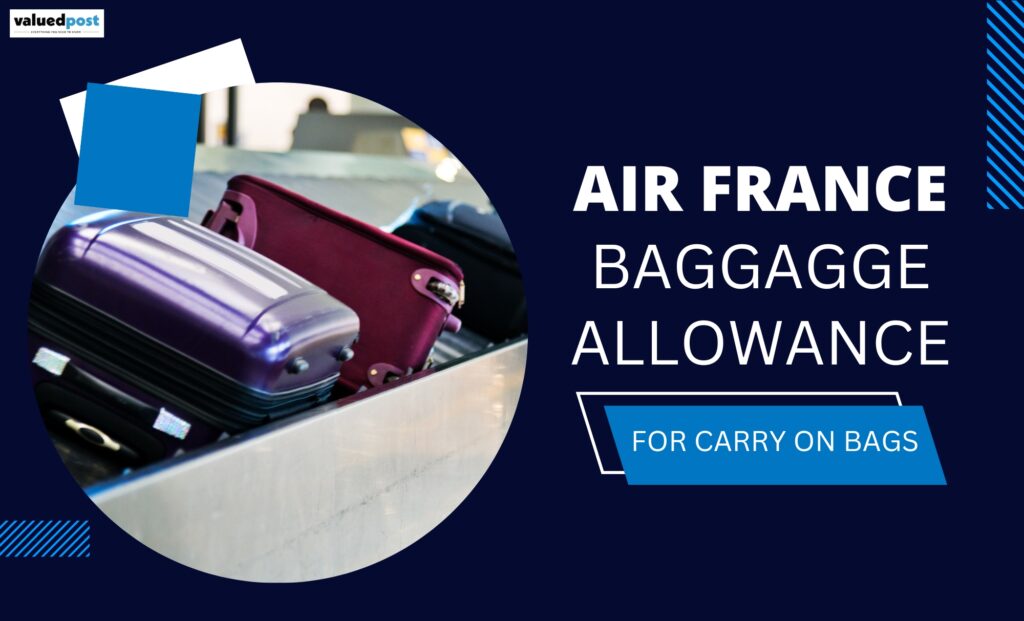 Size Criteria for In-Cabin Bags
The carry-on bags on Air France flights should not exceed 21 inches by 13 inches by 9 inches
Another necessary thing is that they must fit in the overhead compartment or under the seat in front of you.
The dimension of the accessory item should not exceed 40 cm by 30 cm by 15 cm.
Weight Limits for In-Cabin Bags
The Air France baggage weight restrictions change according to the Air France seat selection.
Economy: If you are traveling on economy tickets, you can carry only one carry-on bag along with one personal item. The weight should be at most 12 kg.
Premium Economy: In the Air France premium cabin, you can carry 2 bags with a maximum weight limit of 18 kg.
Business: You can carry 2 bags in the Air France business class with a weight not exceeding 18 kg.
La Première: In the most premium cabin of Air France, you can also carry 2 bags with a weight restriction of 18 kg.
Air France Baggage Allowance for Check-In Bags
The check-in bags vary according to the cabin. If you have Air France reservations, you must comply with the Air France check-in norms and also understand the items which you cannot bring on the flight.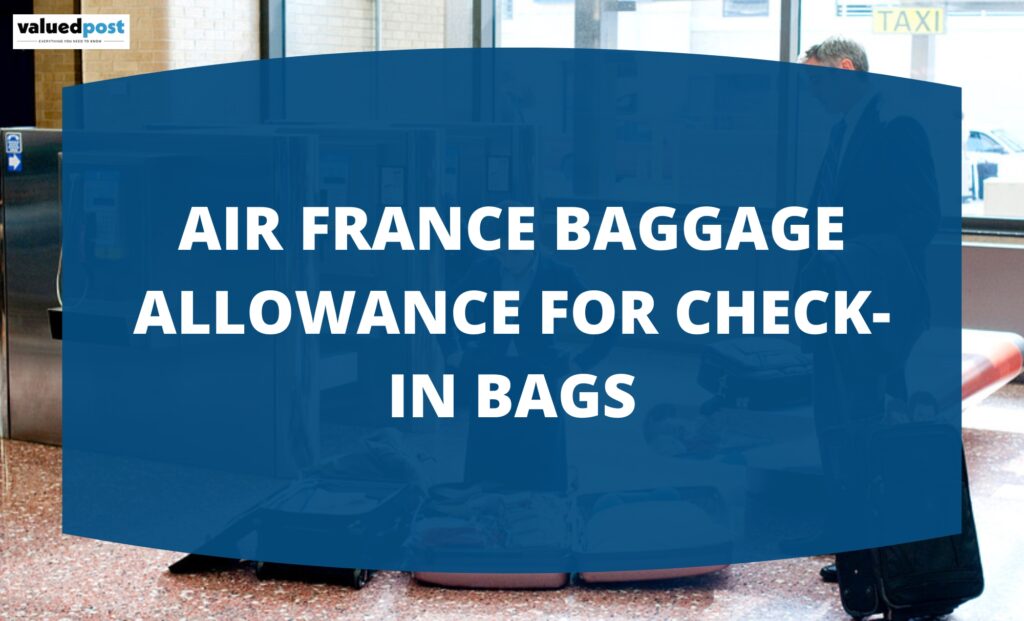 Check-in Bags Dimensions
As per the Air France baggage allowance, the dimension of the check-in baggage should not exceed 158 cm in length, width and height combined.  Whatever cabin class you are traveling in, Air France will not allow it in the hold.
Weight Limits on Checked-In Bags
Traveling on Air France La Première cabin offers numerous benefits, one of which is a three-bag maximum for checked baggage. Each one has a maximum weight of 32 kilos (70 pounds).
Passengers who opt for Air France business class cabins are permitted to check up to two bags totaling a combined weight of 32 kilos (70 pounds).
Two checked bags, each weighing up to 23 kilograms, are complimentary for Premium Economy ticket holders (50 pounds).
As per Air France baggage allowance for Economy class, passengers can carry only one bag with a maximum weight limit of 23 kg.
Air France Excess Baggage Allowance
Regardless of your travel class, Air France will consider any item that exceeds the maximum weight of 23 kg to be overweight baggage. You will have to pay additional charges for carrying overweight baggage.
The additional fare can range from €45 to €300 depending on the Air France travel cabin and the routes. Moreover, on flying with Air France, each passenger can carry up to 10 bags only.
Air France Baggage Allotment for Children and Pets
Even if the child does not have a ticket, any traveler flying Air France between the United States and Europe with a child 2 years old or younger can bring an additional carry-on bag. There is no need to buy tickets for parents carrying their babies on their laps.
You can also bring a stroller as a carry-on item. However, the measurements should not go over 5.9 by 11.8 by 39.4 inches. Moreover, it should be foldable.
Also, the passengers can bring small pets to the cabin. They are allowed to travel with passengers in any class. However, under the Air France pet policy, the weight of the pet should be at most 8 kg, including the pet carrier.
Passengers must pay the excess charges for traveling with a pet. The age and health standards for carry-on dogs should be followed, and reservations must be made in advance.
Frequently Asked Questions
How much baggage can I carry while flying on Air France?
Air France allows bringing ten bags by each passenger.
What is the maximum baggage weight in the Air France La Première cabin?
The maximum checked-in baggage weight should not exceed 32 kg if you are traveling in the La Première cabin.
What is the Air France checked-in baggage allowance for infants?
For lap infants, Air France allows check-in baggage with a maximum weight of 10 kg.